Weekend of Wellness June 26 – 27, 2021 For Adults and Teens 16 +
Saturday, June 26, 2021, 1:00 pm

to

5:00 pm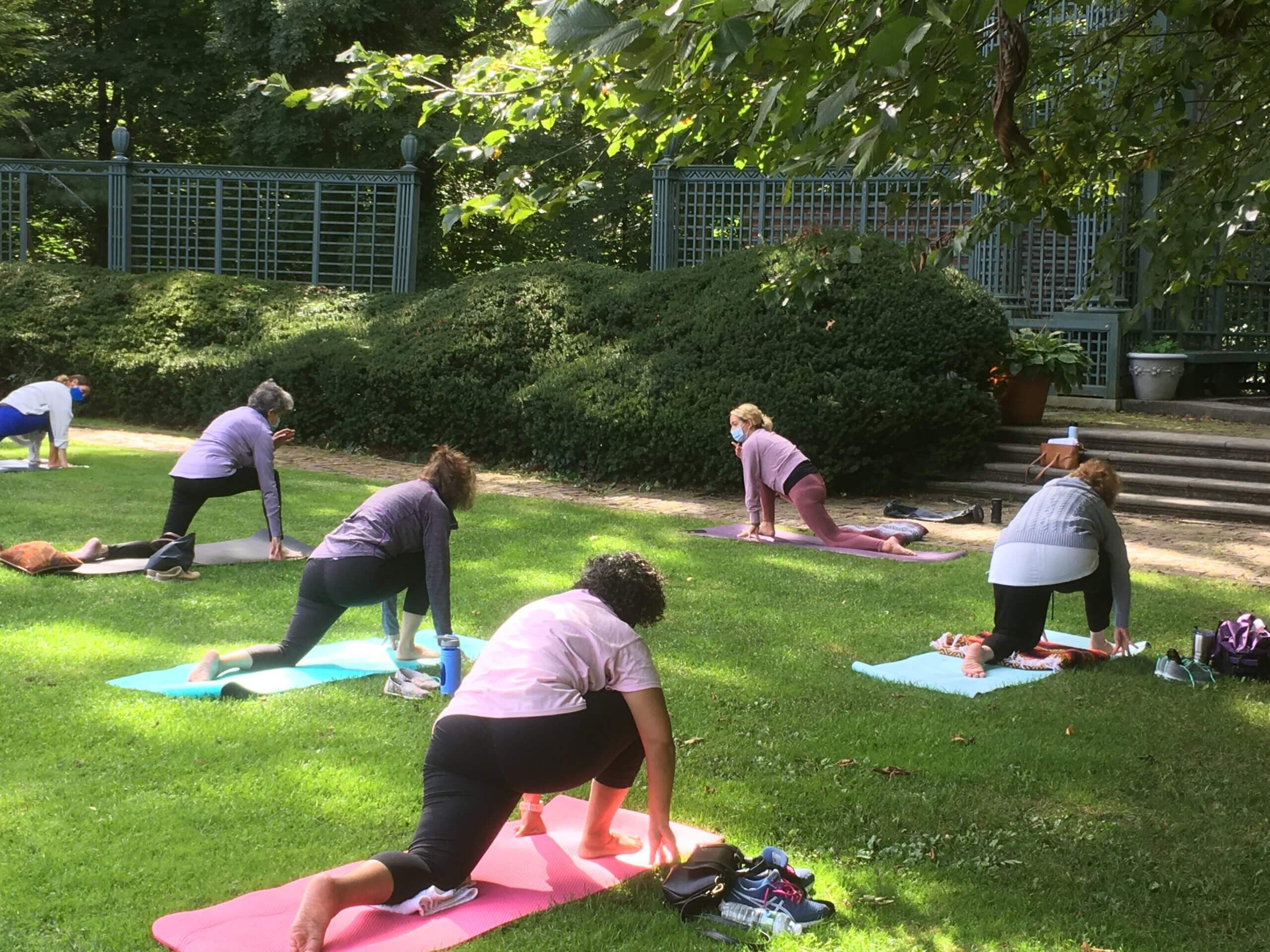 Heart, Mind, Body & Soul
Chakra Meditation
Time: 1-1:50 pm
Location: Formal Garden
A seated meditation that connects you to the healing benefits and tools your energy body through guided visualization and chanting. (Can also be done lying down). Discover your most peaceful, loving, hopeful and happy self.
Laughter Yoga- Come have some FUN!
Time: 2-2:50 pm
Location: Formal Garden
Laughing is an easy way to strengthen all immune functions, bring more oxygen to the body and brain, foster positive feelings, and improve interpersonal skills. Your body already knows how to laugh. Participants do not need to have a sense of humor, know jokes or even be happy. You are invited to "laugh for no reason," faking it until it becomes real.
Chair Yoga for Everybody with Singing Bowls
(All adults invited. NO experience necessary)
Time: 3-3:50 pm
Location: Formal Garden
Enjoy the many proven benefits of yoga in this gentle practice that helps one to destress, becoming more calm, more peaceful and more content, this class explores modified yoga poses, gentle breathing techniques, and singing bowl meditation.
Mindful Sculpture Stroll
Times: 1-1:50 pm     2-2:50 pm     3-3:50 pm
Location: The Mansion
Join Rebecca Hirschwerk of the Museum's Education Department for an hour of observation and reflection as we gather for a mindful walk through the Museum's outdoor Sculpture Park. Let all distractions fall away as we unplug and unwind, using our grounds and sculpture to focus on our breathing, notice our reactions, and practice the art of looking on purpose without judgment.
ART MAKING FOR ADULTS AND TEENS 16+
Art from the Heart: Botanical Watercolors and Meditation
Times: 1-2:50 pm    3-4:50 pm
Location: The Manes Center
Practice mindfulness and creativity in a relaxing and meditative watercolor class. Begin with light stretching and meditation, followed by watercolor painting while observing live florals and images, learn various painting, color mixing and application techniques to create original floral inspired works of art. All materials included. Previous drawing experience helpful but not required. ADDITIONAL $15
Fiber Art – Drawing with Thread
Times: 1-1:50 pm     2-2:50 pm    3-3:50 pm
Location: The Manes Center
Slow down, breathe deep and explore the rhythmic practice of "drawing" with thread.
Textile artist and educator Pam Koehler will introduce you to some basic techniques of embroidery and applique using colorful threads and simple stitches to evoke an image, place or word that brings comfort and calm during these challenging times. No previous stitching experience needed. ADDITIONAL $15
Mandala Land Art
Times: 1-1:50 pm     2-2:50pm     3-3:50 pm
Location: The Mansion
Inspired by the circular and symmetrical form of the mandala, connect with nature and your own creativity in this Mandala Land Art activity. Using objects found in nature such as colored stones, fallen leaves, twigs, pinecones and petals, create a mandala by arranging these objects into a circular pattern upon a forest floor. Practice mindfulness and breathing exercises as your mandala making takes form with artist and yogi, Samantha Hofsiss as your guide. Please dress in weather appropriate attire. Sunscreen and insect repellant recommended.
The Art of Tea
Times: 1-1:50 pm     2-2:50pm     3-3:50 pm
Location: The Mansion
Appealing to all the senses in one quietly satisfying experience, the Taoist tea ceremony draws upon the principles of ancient ritual. Watch the dance-like motions of the tea master, inhale the aroma of some of China's finest blends of tea, appreciate the visual luxury of fine ceramic tea vessels and the bamboo implements and then, of course, enjoy a healthful sip in its ideal context.
Tai Qi with a Master
Times: 1-1:50 pm     2-2:50pm     3-3:50 pm
Location: Formal Garden
Down through the millennia, the slow and subtle poetry of the movements in tai qi  have performed their healing purpose, channeling the Chinese concept of the unceasing flux of yin and yang. The internationally renowned master Chen Si Tan leads classes and demonstrates the graceful gestures of this ancient meditative.
Exhibition Tours
Times: 1-1:50 pm     2-2:50 pm    3-3:50 pm
Location: The Mansion
Join us in the Museum's galleries to explore our current exhibitions La Belle Époque and Andy Warhol: A Life in Pop with guided tours led by Museum staff and our knowledgeable Docents.
FIRST RESPONDERS ARE FREE
The Museum is grateful for all of the hard work and sacrifices of Long Island's First Responders during the Covid-19 crisis. To show our thanks, this program is offered free for nurses, doctors, and EMTs. Space is limited. To reserve your spot please email nfletcher@nassaumuseum.org.
DONATE A NON-PERISHABLE FOOD ITEM
Donations will be shared with The Food Pantry at Shelter Rock Church in Old Westbury. On the weekend of the event, participants are invited to bring non – perishable food items to The Manes Center.