Trustees and Staff
The Nassau County Museum of Art is dedicated to fostering a deeper understanding of art and culture through exhibition and education programs for people of all ages and backgrounds. In practice, the Museum pursues the mission by enhancing its permanent collections, sculpture park, historic property and natural setting.
President
Angela Susan Anton
Vice President
Arthur S. Levine
Treasurer
William Achenbaum
Trustees Emeriti
Mrs. Vincent de Roulet
H. Brooks Smith
Members
W. Russell G. Byers, Jr.
Todd Cohen, M.D.
Mrs. Stephen J. Cuchel
Mrs. Gerard L. Eastman, Jr.
Maryam Franzella, Esq.
Steven A. Klar
Harvey R. Manes, M.D.
Cynthia Senko Rosicki, Esq.
Laura Savini
Jonathan R. Serko
Margaret L. Stacey
Carol Wolowitz
Past Presidents

Arnold A. Saltzman* (1989-1991)
Alan Seligson* (1992-1994)
Clarence F. Michalis* (1995-1997; 2012-2015)
Arthur S. Levine (1998-1999)
Frank Castagna* (2000-2002)
Mrs. Daniel P. Davison* (2003-2005)
H. Brooks Smith (2006-2008, 2011)
Peter Tilles (2009-2010)
Director Emerita
Constance Schwartz
Charles A. Riley, II PhD Museum Director
Before becoming Director, Dr. Riley has had a long association with the Museum as both a curator-at-large and a presenter of lectures in conjunction with the Museum's exhibitions. As a curator, he contributed to the museum's Picasso, Surrealism and Abstract Expressionists exhibitions, Dr. Riley has also curated exhibitions in Taiwan, Berlin, Amsterdam, Lausanne, New York and on Long Island.
Recently, Dr. Riley published his latest book, "Free as Gods: How the Jazz Age Reinvented Modernism," bringing the number of books he's authored to 32. Other books include "The Jazz Age in France," "The Art of Peter Max," "Art at Lincoln Center," "The Arts and the World Economy," "Color Codes" and "The Saints of Modern Art." His next book, a study of Rodin in Chinese and English, will be published by the Chimei Museum. Dr. Riley's monographs include those on Ben Schonzeit, Fritz Bultman and Peter Max, with most published by Abrams.
As a sought after guest commentator on the art market as well as other topics, Dr. Riley has appeared on CNN, NBC, MSNBC, CBS, ABC and Fox News.
Born and raised in Manhasset, Dr. Riley is a summa cum laude graduate of Princeton University and received his Ph.D. from The Graduate Center of CCNY. He and his wife, Dr. Keming Liu, a noted translator of Chinese poetry and a professor at CUNY, live in New York and Cutchogue on the North Fork.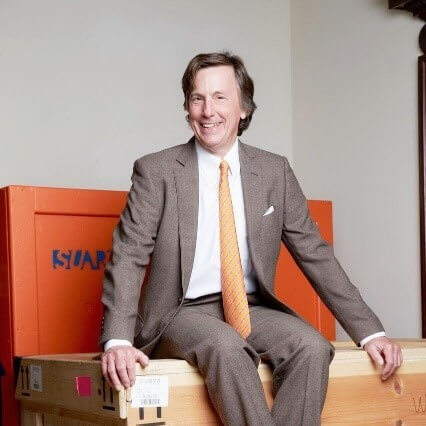 ADMINISTRATION
Charles A. Riley II, PhD
Director
(516) 484-9338 ext. 37
Colleen Kinneary
Manager of Museum Services and Volunteers
(516) 484-9338 ext. 45
ckinneary@nassaumuseum.org
EXHIBITIONS
Fernanda Bennett
Deputy Director & Chief Registrar
(516) 484-9338 ext. 30
fbennett@nassaumuseum.org
Jennifer Haller
Associate Curator
(516) 484-9338 ext. 26
jhaller@nassaumuseum.org
OPERATIONS
Rey Castillo
Building Engineer
(516) 484-9338 ext. 32
rcastillo@nassaumuseum.org
EDUCATION
Laura Lynch
Director of Education
(516) 484-9338 ext. 24
llynch@nassaumuseum.org
Reem Hussein
Manager of The Manes Art Education Center
(516) 626-5280
rhussein@nassaumuseum.org
Jean Henning
Conservation Project Coordinator
(516) 484-9338 ext. 29
jhenning@nassaumuseum.org
Catherine Clark
Manager of School Programs
(516) 484-9338 ext. 18
cclark@nassaumuseum.org
Noemi Fletcher
Education & Public Programs Coordinator
(516) 484-9338 ext. 12
nfletcher@nassaumuseum.org
Einav Dembin
School & Family Program Educator
(516) 484-9338 ext. 28
edembin@nassaumuseum.org
 DEVELOPMENT
Monica Reischmann
Director of Development
(516) 484-9338 ext. 25
mreischmann@nassaumuseum.org
Tenaya Parchment
Development Associate
(516) 484-9338, ext. 16
tparchment@nassaumuseum.org
Tara Keblish
Manager, Membership & Corporate Relations
(516) 484-9338 ext. 23
tkeblish@nassaumuseum.org
Debrah Breen
Grant Writer
(516) 484-9338, ext. 20
dbreen@nassaumuseum.org
ACCOUNTING
Diane Roedel
Accountant
(516) 484-9338 ext. 34
droedel@nassaumuseum.org
GROUNDS
John Yoniak
Tony Penate
Become a Member Today!
Nassau Museum Membership is a great way to get the most out of every Nassau Museum experience. Enjoy unlimited free admission to the Nassau Museum's extraordinary collections and special exhibitions, plus Member-only privileges all year long.
A Year Full of Art with Unlimited Free Admission
Invitation-Only Exhibition Openings