Attend a Fundraising Event
Donate an Item or Service 
Serving the Community in New Ways
For 30 years, the Museum has offered outstanding exhibitions and educational programs to the public. When the pandemic forced our temporary closure, we found new and innovative ways to connect with our community by introducing the Art with Heart initiative.
· Virtual art classes and tours for families, teachers, and students to enjoy from home
· Art therapist's videos and livestreams for those with memory loss and on the Autism spectrum
· Live outdoor activities including yoga and the mindful sculpture experience
· Remote learning resources for parents and teachers
· Upcoming exhibitions featuring well-known and emerging artists
OR TEXT ART+HEART TO 44321 TO DONATE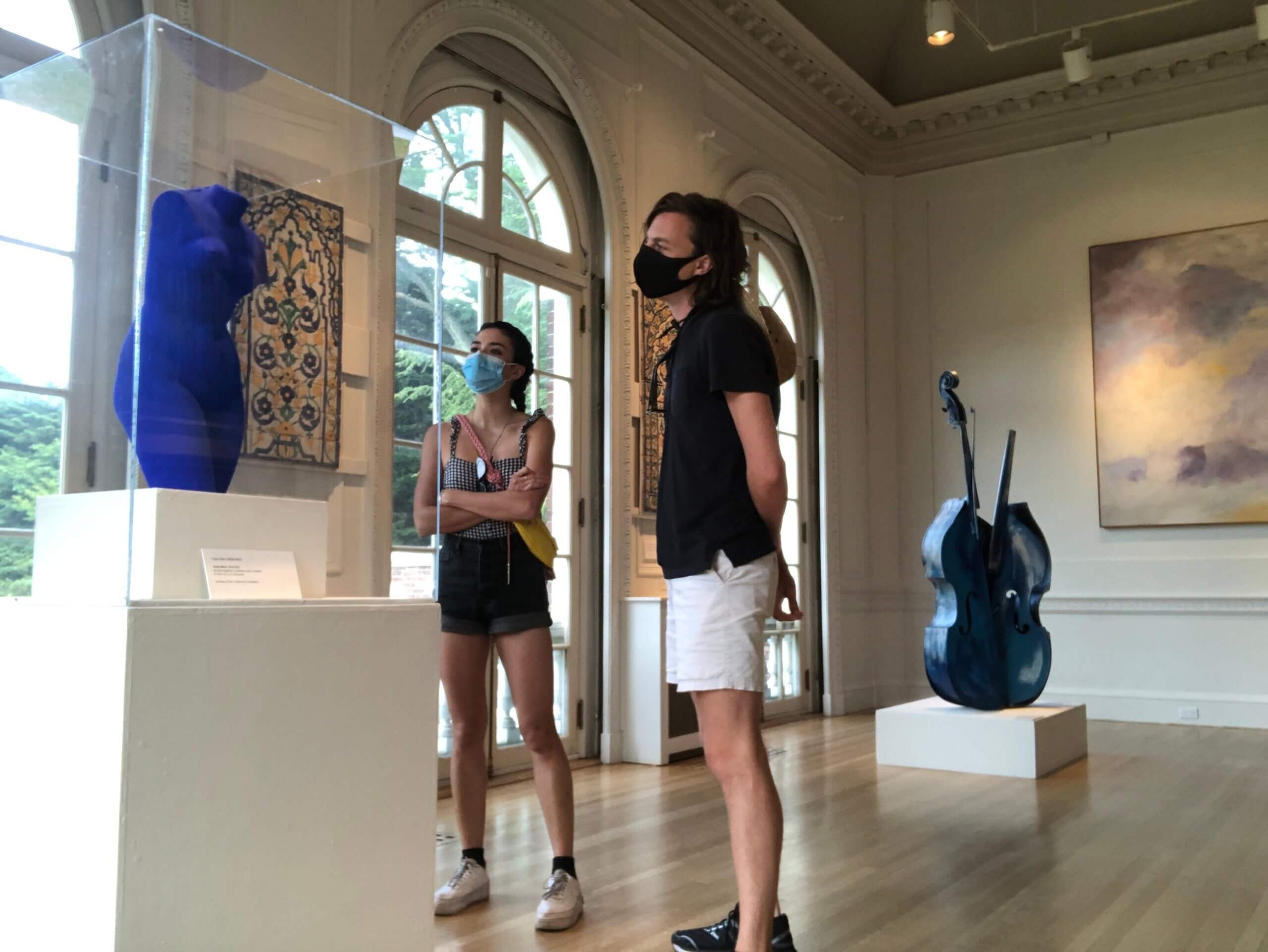 Help Keep the Museum's Heart Beating!
During our four-month closure our revenue streams from admission, the store, facility rental and our major fundraising event were halted and now we find ourselves facing a financial challenge.
Your donation at this time would be all the more meaningful. It takes you and your generosity to keep the momentum going as we move forward with outstanding exhibitions, educational activities, therapeutic programs, virtual classes, and lectures.

OR TEXT ART+HEART TO 44321 TO DONATE
Your donation will allow us to play an ever more important role in the community, continuing our mission of offering outstanding exhibitions, education programs and now expanded online and outdoor programming that provide solace and inspiration especially in these troubled times.
Can we count on you for your support?
Thank you!
Vehicle Donation Program to benefit the Museum  
Vehicle Donations are a unique and impactful giving option that helps support the Museum's outstanding exhibitions and programs. Your unwanted car, truck, boat, motorcycle, SUV or even plane can be accepted as a donation.
Your generosity  qualifies for a tax deduction, and pick-up is free! Call 855-500-RIDE (7433) now or visit: https://careasy.org/nonprofit/nassau-county-museum-of-art to get started!
The Nassau County Museum of Art and its exhibitions are supported by
The Board of Trustees
Members, including Museum Council
The County of Nassau Under County Executive Laura Curran and the Nassau County Legislature
Contemporary Collectors Circle
Corporate Committee
Exhibition and Event Sponsors
Friends of the Garden
Government and Foundation Grants
Corporate and Private Donors
Sources of Earned Income, such as admissions, facility rentals, and the Museum Store
Other generous contributions are provided by
Art Bridges
Bank of America
Claire Friedlander Family Foundation
Educational Programs at the Museum are made possible through the generosity of
Phyllis Backer Foundation Inc.
Capital Group Companies Charitable Foundation
Ike, Molly & Steven Elias Foundation
The Ferriday Fund Charitable Trust
DuBose and Dorothy Heyward Memorial Fund
Wells Fargo Foundation
Additional educational support is provided by
Autism Speaks
Milton & Sally Avery Arts Foundation
Margaret Neubart Foundation
North Shore Autism Circle
NYSCA
2020 Community Appeal raises a record $153,500!
We sincerely appreciate the generous outpouring of support for our 2020 Community Appeal from a broad range of art lovers, some old friends of the Museum and many newcomers. The Appeal raised $153,500 with 72% of funds coming from new donors.
We are grateful to our anonymous donors for their generous $20,000 Matching Challenge Grant which dramatically enhanced the results. In addition, we want to thank Angela Susan Anton, Museum Board President for her efforts, chairing the Appeal once again.
These gifts allow the Museum to have an ever more important role in the community, continuing our mission of offering outstanding exhibitions, education programs and now expanded online and outdoor programming that provide solace and inspiration, especially during this stressful time.
Our heartfelt thanks to all our supporters whose contributions help the Museum to enrich the lives of over 200,000 visitors each year.
$20,000 Challenge Grant Donor
Anonymous
$5,000+
Chieco Family Fund
Michel David-Weill
Peter & Jeri Dejana Foundation
Ike, Molly & Steven Elias Foundation
The Kupferberg Foundation
David Lerner
Arthur S. Levine
Marjorie Shukow
Carol Wolowitz
$1,000 – $4,999
Linda Carter
Satty, Levine & Ciacco CPAs, PC
Cooper Foundation
Glen Oaks Country Club
Natalia Good
Bill Lambert
Robert O. Mayer
Cora Michalis
Barry L. Nobel
The PHFFoundation, Inc.
Rallye Motors, Inc.
Roger Rechler Foundation
Michael Rubinberg
Ray Sikorski
Margaret Stacey
Melody Su
Shining Sung
Juliana Terian
Nancy Zhang
$250 – $999
David Alexander
Dwight A. Arnesen
Arrow Security
Maria Branco
Louise Braver
Dee Dee Brix
Kelly Chen
Xiao Chen
John K. Colgate
Jacqueline Covey
Judith Delaney
Richard DiGeronimo
Eileen Dispenzieri
Bogusia Doroszczyk-Knysz
Jill Friedman
Isidore Grossman Foundation, Inc.
Virginia Hillman
Theodora W. Hooton
Peter V. Houmere
Neil Klaskin
James Large
Richard C. Laskey
Ellen Lazarow
James P. Levin
Theresa Lian
Wayne Lipton
Ann M. Mallouk
Debra McCalla
Cheryl Metrick
Mary L. Morris
Peter B. Mudge
Nassau Counselors Association
New England Regional Council of Carpenters
Elizabeth Nugent
John Owens
Corrine Paston
James Pi
Andre Clermont-Saad
Myron Susin
Jessica K. Vega
Paul Vitello
Marion C. Wood
Maxine Zinder
$100 – $249
Kurt A. Amsler
Ilana Benmayor
Paula Berger
David Bobrow
Christopher Boylan
Michael D. Brown
Emily Burton
Eve Califano
John D. Cameron
Valerie Canadeo
Audrey Carroll
Ann Chernys
Jane E. Clifford
Nelson DeMille
Elementary Art Teachers at Port Washington
Rachelle Epstein
Diana Ezring
Luisa Ferrante
Jeffrey H. Finkel
Frank J. Antun Foundation
Frederic Furuya
Michele Garfield
Steven Greenberg
Melanie S. Grotas
Jessica Tan Gudnason
Eva Heisler
Elizabeth Heller
Anne R. Hill
Ronald Hochman
Zygmunt Jagiello
Tobe Joffe
Jackie Kaszubski
Joanne Klein
Rachelle Krieger
Merle Levy
Jerry Machtinger
Carol Markman
$100 – $249 continued
Irving Markowitz
Elizabeth Marx
Rory McCreesh
Barbara Meltzer
Rosemary Mittelmark
David Mykoff
Ingrid Nyeboe
Kathleen J. Perry
Richard Philips
Bernice Polinsky
Janet Price
Joan Quatrano
Mark Raifman
Nancy Richner
Eugene Rubach
Phyllis Schalet
Susan Schubach
Rhoda E. Shapiro
Jeff Silverman
Mark Silverstein
Paul Spivack
Laurel P. Tria
Rama Vora
Ira M. Warren
L. Werfel
Susan Wilker
Elizabeth Woodburn
Penny Zaleta
Kathy Zankel
Xiaojian Zhao
$25 – $99
Ruth Abraham
David Abraham
Gail Appel
Nicole Avnet
Gregory Bark
Lynn Beber
Roslyn Berson
Josephine Bianco
Barbara Ellen Black
Anita W. Bloom
Marie Brady
Linda Brancato
Wolstan Brown
Josephine Caffine
Jennifer Camilleri
Vivian Casil
Michelle Centurrino
Leslie Chalson
Kelsey Chapman
Michael Chasanoff
Young-Chang Chen
Helene Chusid
Daniel H. Cook
Dolores Corrado
Caryn Cortegiano
Genevieve DeBlasio
Scott Deneroff
Jane Diaks
Elaine Dinitz
Jane Donnelly
Christine Einnatz
Eve Epstein
Tegwen Epstein
Barbara Factor
Deborah Factor
Nancy R. Fadem
Jill Feldman
Linda Fennelly
Abbott Feren
Richard Fitzmaurice
Elizabeth Fox
Branch Furtado
Karen Gallo
Frances Gmelch
Michael Goffin
Robert N. Golding
Orlando Gonzalez
Shawn Gordon
Claire Gorski
Louise Greenberg
Sheila Greenberg
Juliet J. Gregorio
Louise Grober
Adina Kay-Gross
Jackie Gross
Vincent Guarrera
Jacqueline M. Haberer
Donald Harkness
David Harrington
Kenneth Harris
Roberta Hendler
Jean Henning
Linda Herr
Linda Hochberg
Norman Hollander
Glenn Howard
Walter Hulse
Lucinda Hurley
Karen Ingram
Barbara Isenstadt
Lee Jacob
Barbara Kass
David Kellogg
Susan Kelly
Suk Sik Kim
Mikhail Kogan
Betsy Kotcher
Maribeth T. Kraus
Tanda Lerner
Rose Levin
David Levine
Leslie Lewit
Alexander Lupenko
Mark Manas
Gail Mandelbaum
$25 – $99 continued
Myra Markowitz
Barry Mastellone
Brigitte McConnell
Madeleine Milan
Amy Morse
Rona Moyer
David Mullen
Leon M. Oxman
Therese Padyk
Sharon Pesner
Ronnie Pinquist
Elizabeth Prinz
Dana Reimer
Mary Dillon Reynolds
Gary Roeburt
Jeff Rovell
Florence Rubin
Luella Russo
Therese Sangirardi
Matthew Santamaria
Bernice Schmid
Mischa Schwartz
Susan Schwartz
Ruth G. Selter
Rhoda Selvin
Cynthia Sexton
Rosalie J. Silva
Maggie Silver
Richard L. Simon
Larry Singband
Richard Skaller
Hartley Spatt
Tatiana B. Speransky
Sandra Spitz
Roberta Shamitz-Stahl
Beverly Sternlieb
Harry Stuckey
Kelvin Swarth
Beverly Taubel
Arlene Trombino
Stephanie Turner
Nina Wachsman
Theresa Wallenstein
Maria Warrack
Sandy Westen
Genevieve White
Laura Wolf
Rose Chin-Wolner
Under $25
Maria Aliberti
Gloria P. Altman
Elaine Arden
Ray Armstrong
Conrad Axelrod
Patricia Ann Barry
Tricia Barsamian
Vita Barth
Danielle Bazer
Oronde Bell
Janet Bendowitz
Sarah Bergmeyer
Georgia Binns
Anne S. Borofsky
Emma Bowdren
Nancy Braithwaite
Allison Buser
Julia Callan
Robert Calvin
Sanford Caplan
Virginia M. Carew
Ed Carus
Valerie Cassidy
Anthony Castro
Joel Catania
Dolores Colgan
Sahmahrah Guillaume-Combs
Michelle Conroy
Barbara Consiglio
John Coogan
Marie Costabile
Theodora Cottell
Karen Cunningham
Taotao Dai
Annaliza David
John Dawson
Debra Dennard
Judith A. DiBartolo
Stefanne Duffy
Wayne Elliott
Pauline Ferstenberg
Valerie Franco
Michael Freedman
Sam Germana
Lucille Taverna-Giardina
Robert Giorgio
Leslie Glick
Catherine Goodheart
Robert Graziosi
Stacey Halpern
Kimberly Harvey
Noelle Juliet Giambrone Hatalovsky
Pamela Hawkins
Catherine Healy
Samantha Henrichs
Carl Herr
Andrea Humphrey
Maura Intemann
Jane Jackson
Ashlyn Jaglall
Sanjay K .Jain
Carl Jeanniton
Catherine Kapchits
Shauna Kargan
Megan Kelly
Lawrence Kleinman
Pamela Koehler
Under $25 continued
Marina Kopf
Anna Krevskaya
Kenneth Kriheli
Valerie M. Landers
Jean W. Lesser
Carolyn Levinson
Barbara Lichtman
Michelle Liew
Deborah Lagana-Lorber
Adrienne Lorenzo
Ruth Lowenberg
Shari I. Lusskin
Elizabeth Maas
Steven Mabey
Marlon Maldonado
William Marman
Milton Masur
Ronald May
Valerie Mclaughlin
Lornet Quow-mclean
Ronald Melendez
Sharon Mendelsohn
Diane Menna
Sari Menna
Carol Meyerson
Ellen Miller
Kenneth Mintz
Daphnee Momperousse
David B. Monoson
Elizabeth Neiland
Thomas Novello
Jessica Panczyk
Paul Parisi
William Perfit
Joy Perla
Sandra Pillittiere
Lynne Portnoy
Jacqueline Pratt
Eric Provost
Mike Purcell
Tim Quashie
Jennifer Radigan
Lois L. Rapiel
Arthur Ravander
Inez Regan
Vivian Reichenbach
Janis Riekstins
Agatha Roa
Camille Rodecker
Bertha Romero
Colleen Ruff
Carole Ruggiero
Daniel Ruperto
Annmarie Schloss
Barbara Segal
Leonid Sharov
Kristie Siegel
Barbara Silbert
Scott Silverman
Ruth Silverman
Sam Skozlas
John Sotirakis
Pamela Spencer
John T. Stebbins
Jacob Steiner
Amanda Strobel
Victoria Swidonovich
Christie Tashjian
Samuel Terzi
Julio Torres
Allison Toy
Linda Traimiller
Louise Triano
Marilyn Turtz
Mary Kate Tusinski
Rosette Tyler
Charles Uffelman
Florence Umezaki
Maureen Vazac
Sven Del Vecchio
Joy Venegas
Meera Venugopal
Ann Vinti
Cristina Wanek
Rachel Warren
Eva Winsberg
Chelsea Wolgel
Anna Marie Wong
Patricia Woodard
Amy Xu
Zoe Zhang
Dear Friends of the Museum,
My sincere thanks for your contributions in support of the Museum's outstanding exhibitions and many wonderful programs offered for adults, families, children and those with autism and memory loss.
We hope you will  take advantage of all the Museum offers either on-site or virtually.
Warm regards,
Angela Susan Anton

Board President