Designed for adults and teens with all levels of art making experience, programs offer hands on studio art classes led by experienced artists. Projects provide opportunities for personal expression in a variety of studio art classes. A focus on group and individual projects help artists discover and learn art skills and processes. 
Family Programs provide children and their adult companions the opportunity to connect while viewing and making art together. Each week we offer projects that encourage curiosity, experimenation and creative thinking through a variety of experiences and materials inspired by current artworks on view in our galleries.
The Nassau County Museum of Art welcomes everyone to visit and explore art in a welcoming and creative learning environment. We recognize the diversity of our general public's abilities, needs, and interests and offer a variety of customized programs and services to ensure accessibility of the museum to all visitors.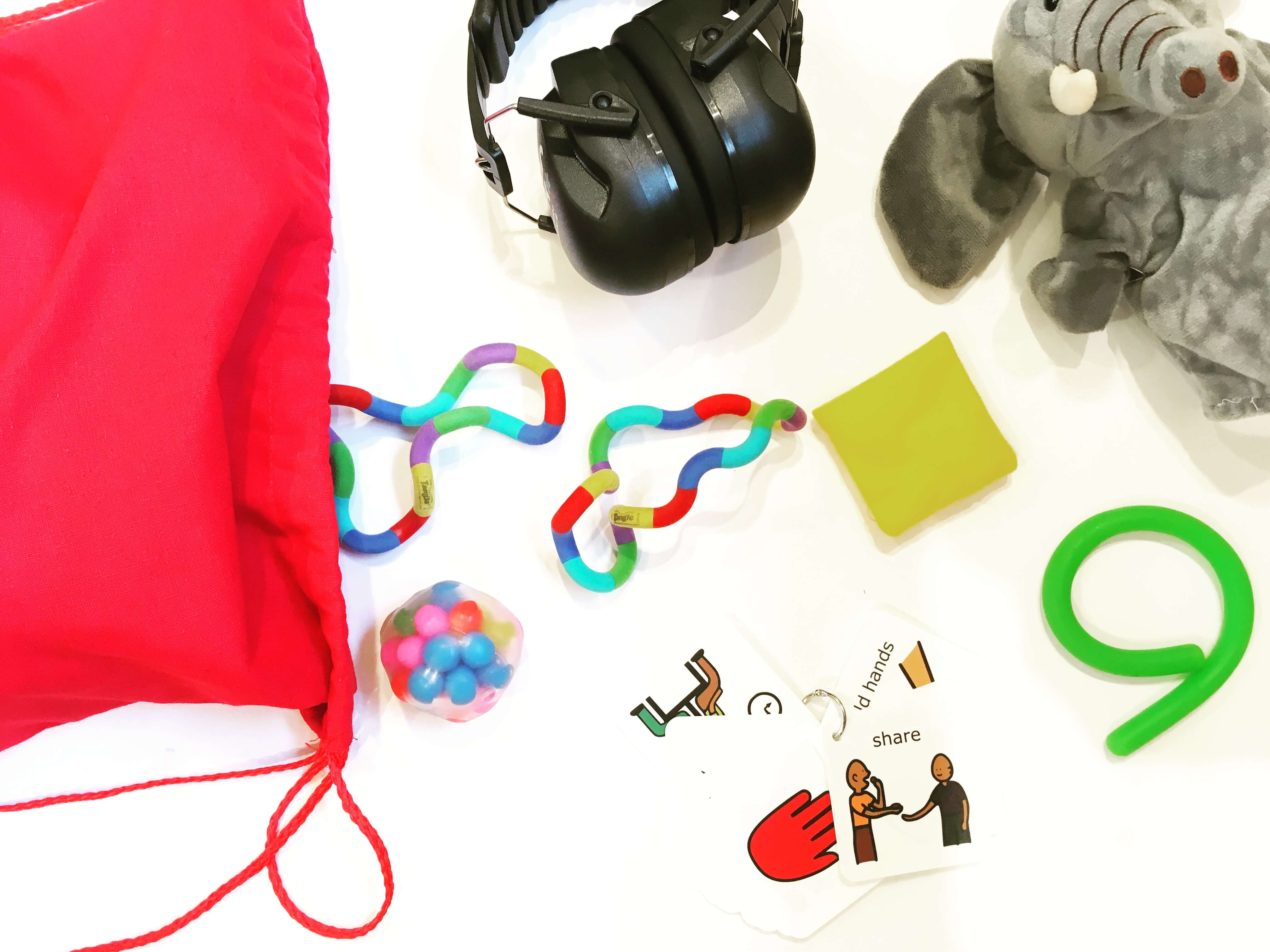 Sensory Tool Kit
Pick up a Sensory Bag at the admission desk when you visit the museum. Designed to provide a multi-sensory museum experience for people with ASD and their families & caregivers, these kits contain a selection of items that include Noise Canceling Headphones, Tactile Animals, Puppets, Texture Squares, Stress Balls, Loofah, Liquid Motion Bubbler and Visual Aids with pictures offered to lessen the stress of visiting a museum and to make the visit to the museum a richer experience. This Sensory Map is made possible by funding from Autism Speaks.
A Social Story
A Trip to Nassau County Museum of Art
Download our Social Guide: A Trip to the Nassau County Museum of Art, which provides an introduction to the museum for first-time visitors, families or visitors with developmental disabilities. Having this prior knowledge helps to alleviate the stress and anxiety often experienced when visiting a new environment. Parents, educators and caregivers can review this guide at home or school to learn what to expect during their visit. The Social Guide is made possible by funding from North Shore Autism Circle.
A Sensory Map
Tips for Navigating the Museum
Download our Sensory Map: Tips for Navigating the Museum to identify sensory friendly spaces within the Museum. Use this as a guide for finding spaces that will likely be quieter and less crowded and for finding areas where there is usually seating and where you can take a break. This Sensory Map is made possible by funding from Autism Speaks.
Programs For K-16
The Nassau County Museum of Art's school programs are based on authentic experiences with art and founded on the belief that all children can look at, talk about, and enjoy works of art, given an open and inviting environment to observe, question and reflect. We strive to create experiences that are inquiry based, interactive and multidisciplinary, in order to access the many varied ways that children learn. This is achieved by examining closely, thinking critically, and communicating collectively.
Art Partner
3 visits per academic year
90 minutes
$1,200 per class
A year-long museum/school partnership in which students visit all three of NCMA's exhibitions.
Interactive Gallery Experience
Gallery Sketching
Family Passes
Educator's Guide
Professional Development*
Art Immersion
1 visit per academic year
90 minutes
$20 per student
An extended museum visit with time for gallery sketching
Interactive Gallery Experience
Gallery Sketching
Family Passes
Educator's Guide
Professional Development*
Art Matters
1 visit per academic year
60 minutes
$8 per student
An hour long inquiry based museum visit
Interactive Gallery Experience
*Professional Development: An hour long visit to the galleries with the Education Department for a preview of the exhibition, open to teachers visiting with their students as well as other interested school staff.
Please schedule your visit 4-6 weeks in advance. Tours are offered Tuesday – Friday. For more information please email Rebecca Hirschwerk, Manager of School programs at rhirschwerk@nassaumuseum.org or send us a message through the form below.
Before You Visit
Let us know of any classroom connections you'd like for us to integrate into your visit. Our team of museum educators want your visit to connect with what you are doing in your classroom! You can also let us know if there is anything in particular we need to know about your students.
Remember to check the weather as the day of your trip gets closer. Have students dress appropriately, since there is a chance you will visit our outdoor sculptures or explore our grounds after your visit.
We have no lunchroom facilities available at the museum, and as a nature preserve we ask that any snacks consumed outside be cleaned up.
It helps if students, particularly in younger grades, wear nametags! This helps the museum educator during gallery conversations.
When You Arrive
The Museum's Saltzman building is a large brick building a short walk from our parking lot. You have 2 options to discuss with your bus driver. You can either have the bus pull up to the front of the Museum for students to arrive directly at the front door, or your bus can park in the parking lot and you can walk up the brick pathway to the front door.
With either choice, the Museum road becomes one way as you pull up to the Museum's Saltzman building's doors – buses can continue around the ring road to end up back at the parking lot.
Jackets, backpacks and water bottles will all be left in class bins when you enter or you may choose to leave them on your bus.
Be Careful
Admiring is encouraged, touching is not. Artworks, including outdoor sculpture, may not be handled or climbed for any reason!
No running, jumping or gum-chewing in the building
All backpacks, packages, water bottles, coats and umbrellas must be left in the coat room upon entering
Please remember that this is a nature preserve; do not engage in any behavior that may harm or damage the wildlife or vegetation that resides here. Please remove any litter you or your group may create
Keep in Mind
An art museum is a place for reflection; please engage in quiet discussion as other groups and individuals concentrate on the exhibitions
We want your visit to be enjoyable and rewarding. With your cooperation we can continue the tradition of welcoming all visitors who love the museum as much as we do!  
Professional Development K-16
The Nassau County Museum of Art offers a variety of Professional Development opportunities for administrators and educators in all fields to explore how to use the Museum as a resource for teaching. The workshops are art-centered, inquiry-based, and designed to engage viewers in a participatory and meaningful experience. Tailored to the needs of each group, all workshops also address both the Common Core and New York State Learning Standards. We encourage teachers to see the museum as an exciting destination for their students and as a resource for classroom learning.
Teachers receive CTLE credit and a certificate of participation for all Professional Development Workshops.
To Schedule a Workshop, contact Rebecca Hirschwerk, Manager of School Programs rhirschwerk@nassaumuseum.org
Half Day Workshop
For groups of up to 25 participants
$700
With a hands-on artmaking component: $850
Full Day Workshop
For groups of up to 25 participants
$1,400
With a hands-on artmaking component: $1,700
Participants receive an Educator's Guide to the Museum's current exhibition.
Upcoming Professional Development Sessions
Let us bring the Museum to you this summer! Virtual summer programs designed for children, complete with supplies, filmed tutorials and live online sessions. Summer Art Lab is geared for children entering kindergarten in Fall 2020 through ten years old, and Summer Art Studio is for ages 11 – 13.
Support Our Education Programs
Please consider a donation today for the Museum's Public and Educational Programming