Children's & Family Programs
Art Classes and Workshops
Create art like you see at the Museum in studio art classes led by teaching artists with experience guiding participants of all levels of art making and interests. Offered virtually or in-person at The Manes Center, opportunities for personal expression in various media and subject matter are practiced in both group and individual instruction. Helping artists discover, learn, and practice art-making skills and processes.
Winter Art Classes
January-March 2024
In-person studio art classes are offered on-site at the Museum in The Manes Art Education Center.
Participants practice art making with a skilled art instructors alongside classmates in our studios.
Fall Art Classes
September-December 2023
Children's and Family Programs
Children's and Family Programs provide children and their adult companions the opportunity to connect while viewing and making art together. Each week we offer projects that encourage curiosity, experimentation and creative thinking through a variety of experiences and materials inspired by artworks on view in our galleries.
Children and Family Resources
Download a Kid's Map or Outdoor Adventures guide before your visit, or enjoy NCMA inspired activities at home.
The Nassau County Museum of Art welcomes everyone to visit and explore art in a welcoming and creative learning environment. We recognize the diversity of our general public's abilities, needs, and interests and offer a variety of customized programs and services to ensure accessibility of the museum to all visitors.
Ask for a sensory kit at the front desk and download a guide and map before your visit.
Free Sensory Tool Kit for Museum and Home Use
Pick up a Sensory Kit at the admission desk when you visit the museum. Kits contain a selection of items that include Texture Squares, Stress Balls, Loofah, Liquid Motion Bubbler, Visual Aids with pictures and guided prompts to lessen the stress from visiting a museum and to make the visit to the museum a richer experience.
Designed to provide a multi-sensory museum experience for people with ASD and their families & care partners, these kits can be used to assist visitors as they explore the art in our galleries and then be brought home to continue the creative experience.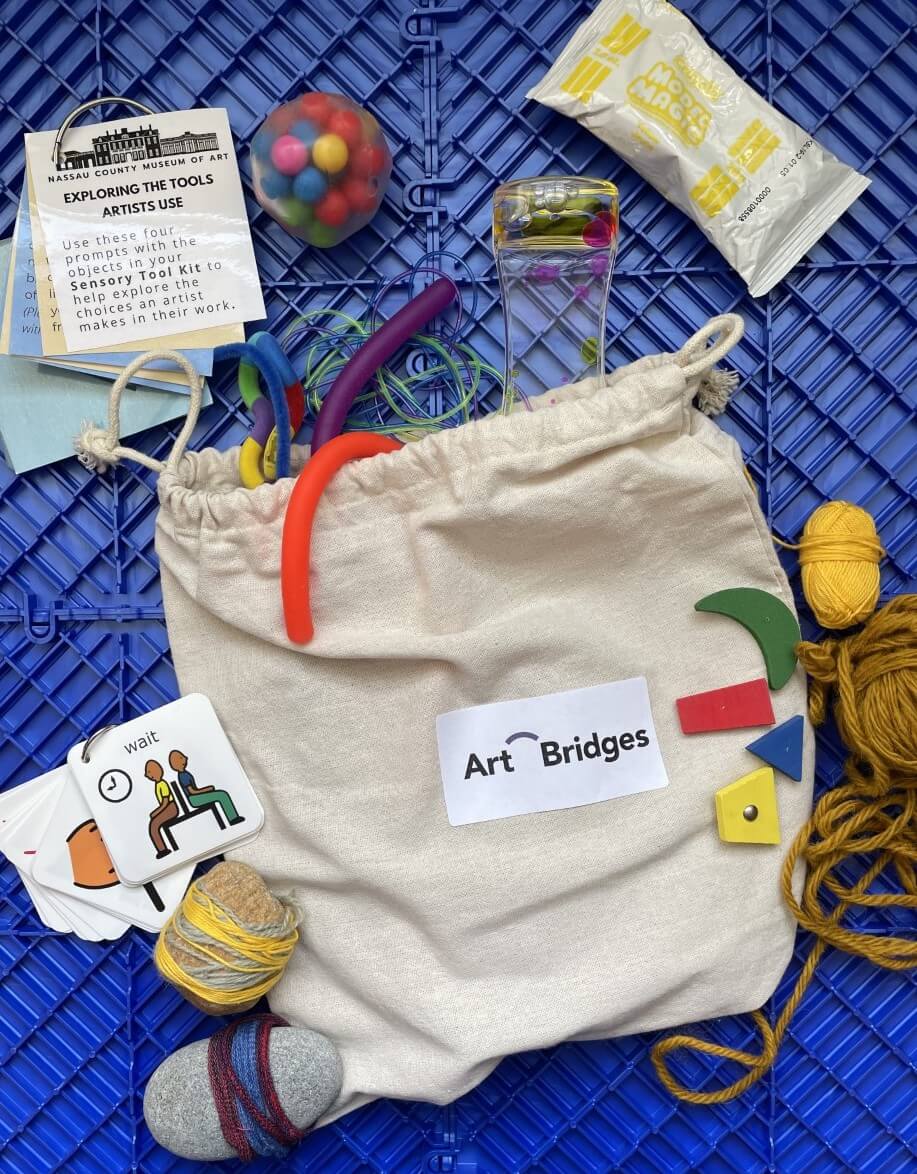 A Social Story
A Trip to Nassau County Museum of Art
Download our Social Guide: A Trip to the Nassau County Museum of Art, which provides an introduction to the museum for first-time visitors, families or visitors with developmental disabilities. Having this prior knowledge helps to alleviate the stress and anxiety often experienced when visiting a new environment. Parents, educators and caregivers can review this guide at home or school to learn what to expect during their visit. The Social Guide is made possible by funding from North Shore Autism Circle.
A Sensory Map
Tips for Navigating the Museum
Download our Sensory Map: Tips for Navigating the Museum to identify sensory friendly spaces within the Museum. Use this as a guide for finding spaces that will likely be quieter and less crowded and for finding areas where there is usually seating and where you can take a break. This Sensory Map is made possible by funding from Autism Speaks.
Activities to enjoy when you can't make it to the Museum
Programs For K-16
For the 2023-24 School Year, NCMA will offer school programs at the museum and online. Both options offer live lessons with NCMA educators.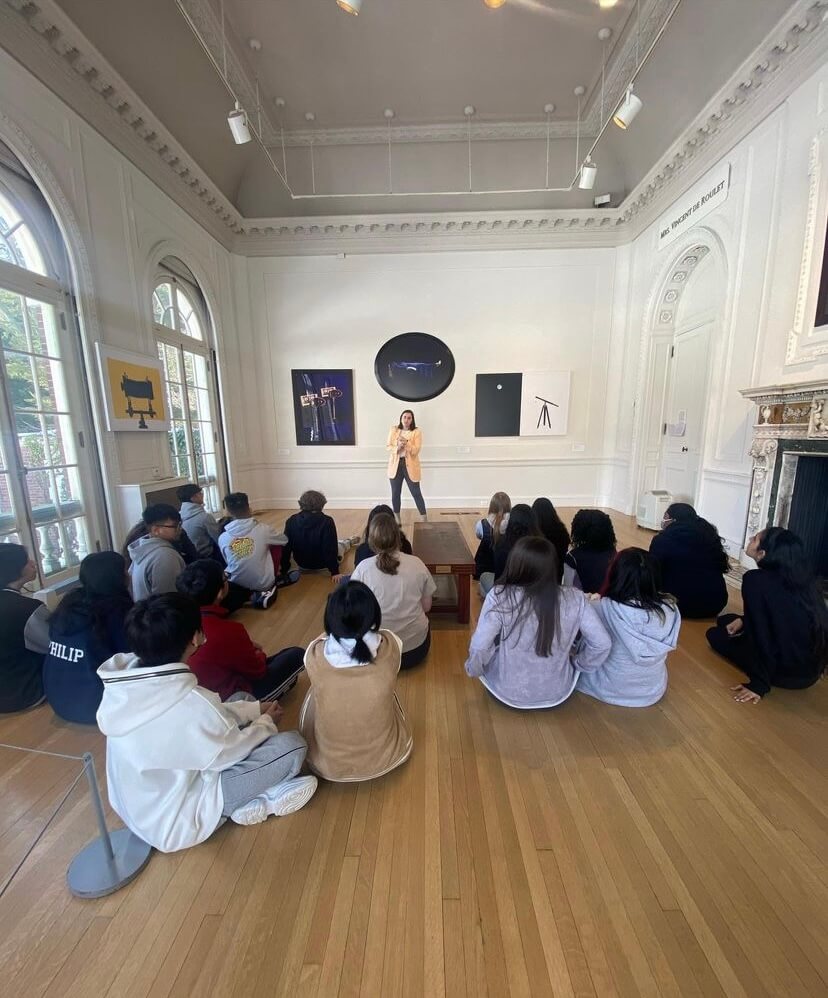 Who we are
The Nassau County Museum of Art is located on the former 145 acre estate of the Frick family who lived here from 1919 to 1965. Today, NCMA, a nationally landmarked historic home serves as a fine art gallery featuring three exhibitions a year, a sculpture garden with over 40 large scale works as well as an arboretum with hiking trails throughout. We invite school children of all ages for guided visits to the museum for the changing exhibitions as well as the opportunity to explore the natural surroundings and sculpture garden. 
What we believe
At NCMA we welcome and celebrate every voice, as K-12 students connect and respond to works of art through inquiry-based discussion and guided experiences, creating an environment of discovery and reflection. Our exhibitions present a diversity of artists, styles, time periods, and geography and our programs encourage students to see their own life experiences as valued and integral to meaning making. Embracing the goals of DEAI (Diversity, Equity, Accessibility, Inclusion) and aligned with the principles of NY State's Culturally Responsive-Sustaining Education Framework, our school programs seek to develop visual literacy, communication skills, critical thinking, self-expression and tolerance. We are inclusive by design and are committed to providing programs that are accessible for all students.  Viewing art through a multi – disciplinary lens, we encourage classes in all subject areas to participate in our programs.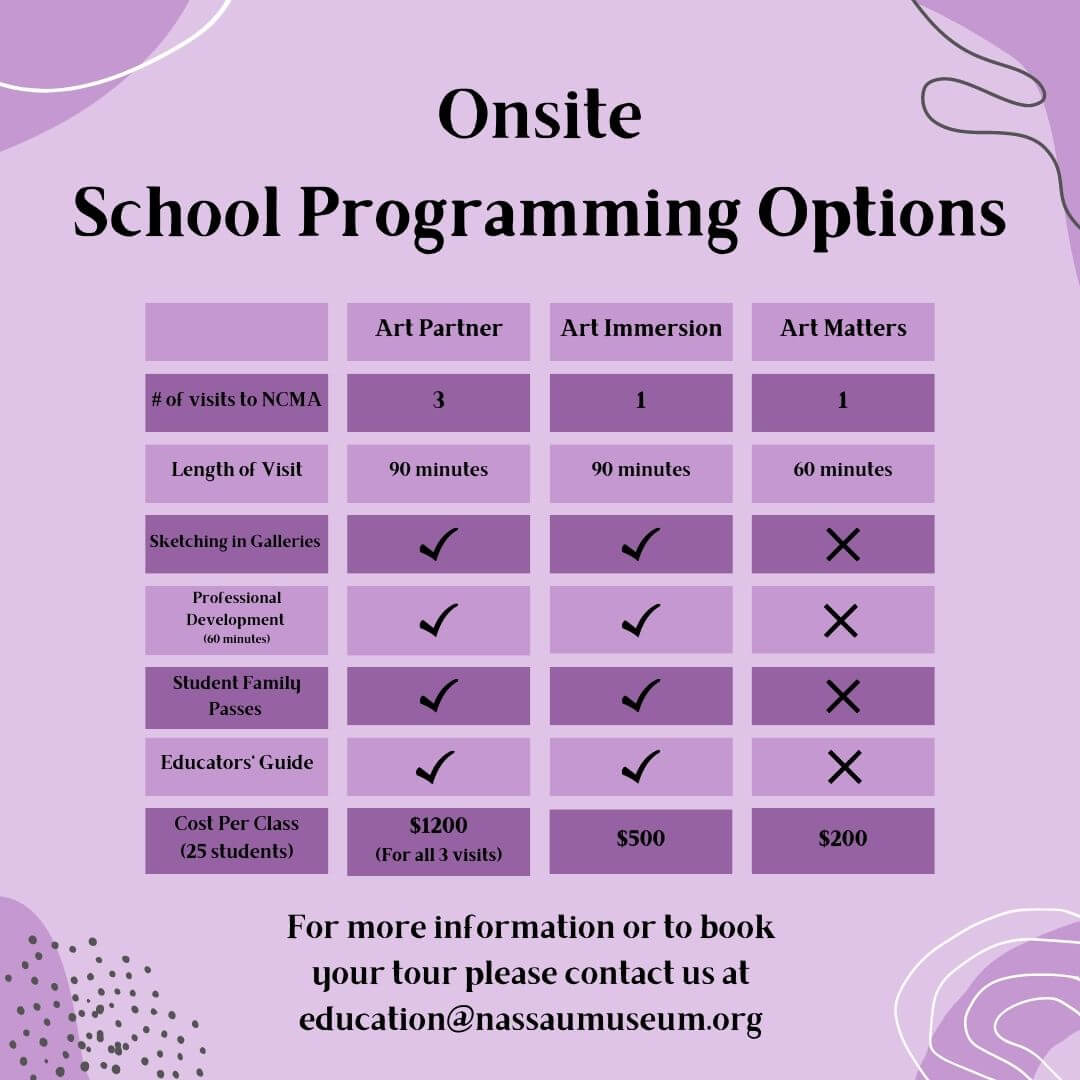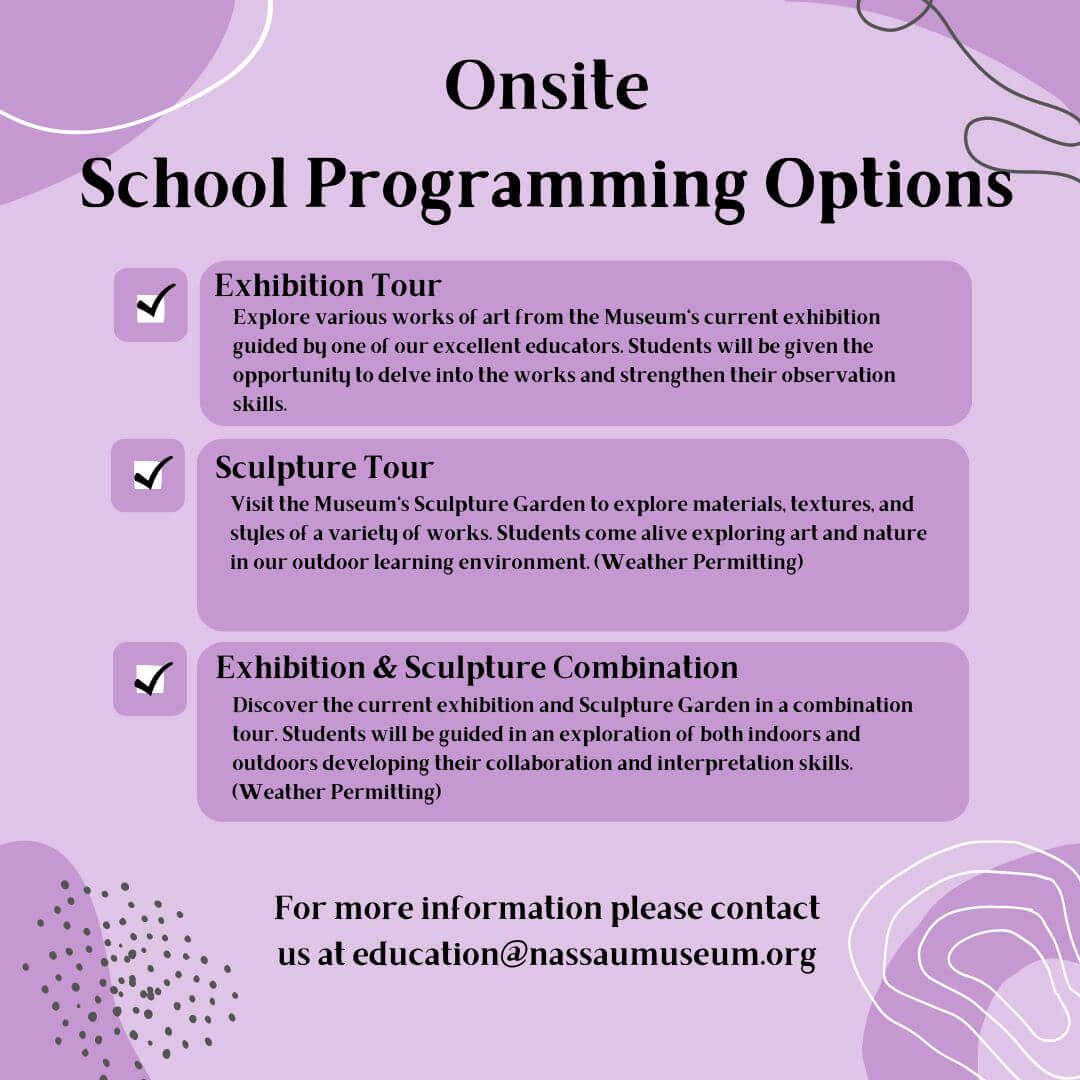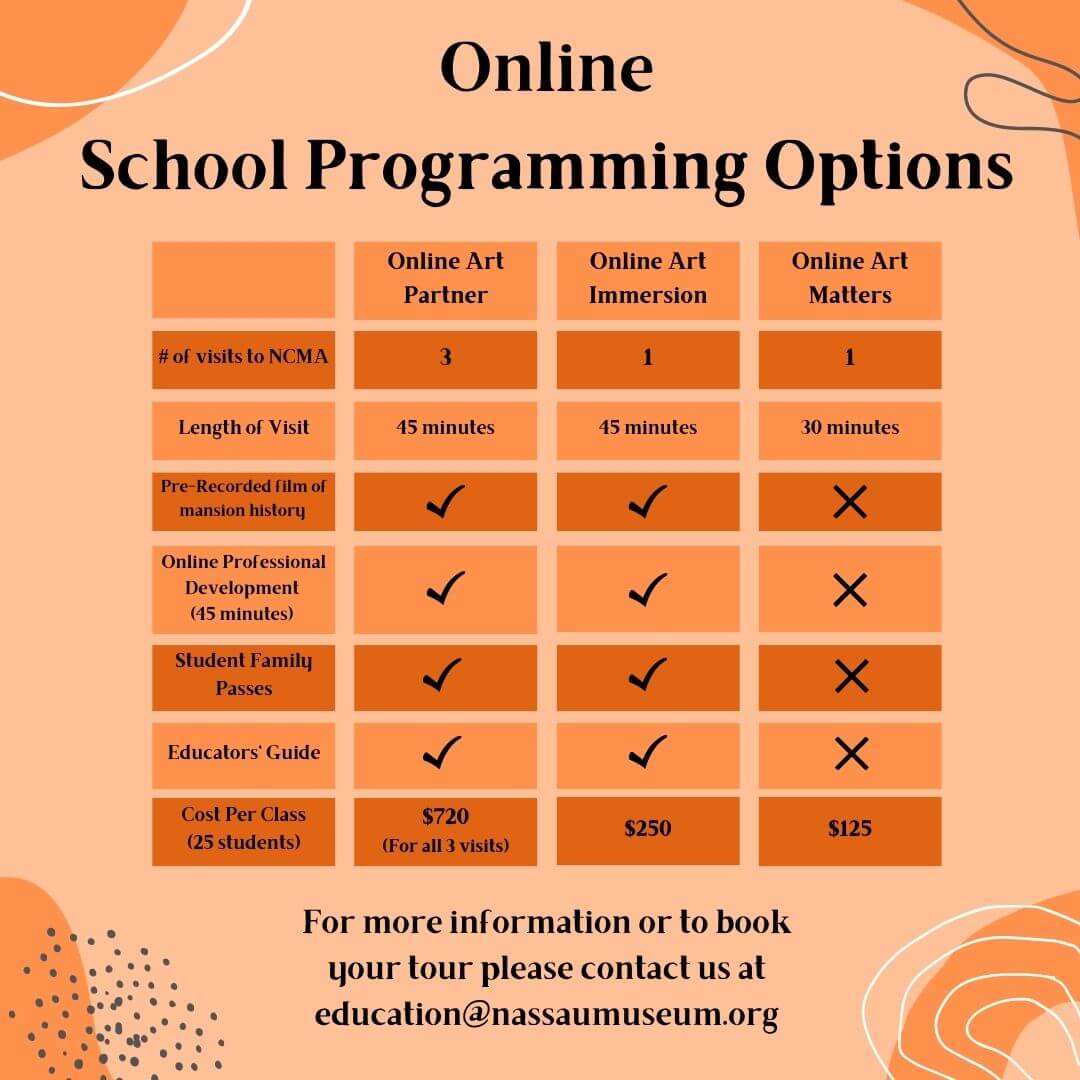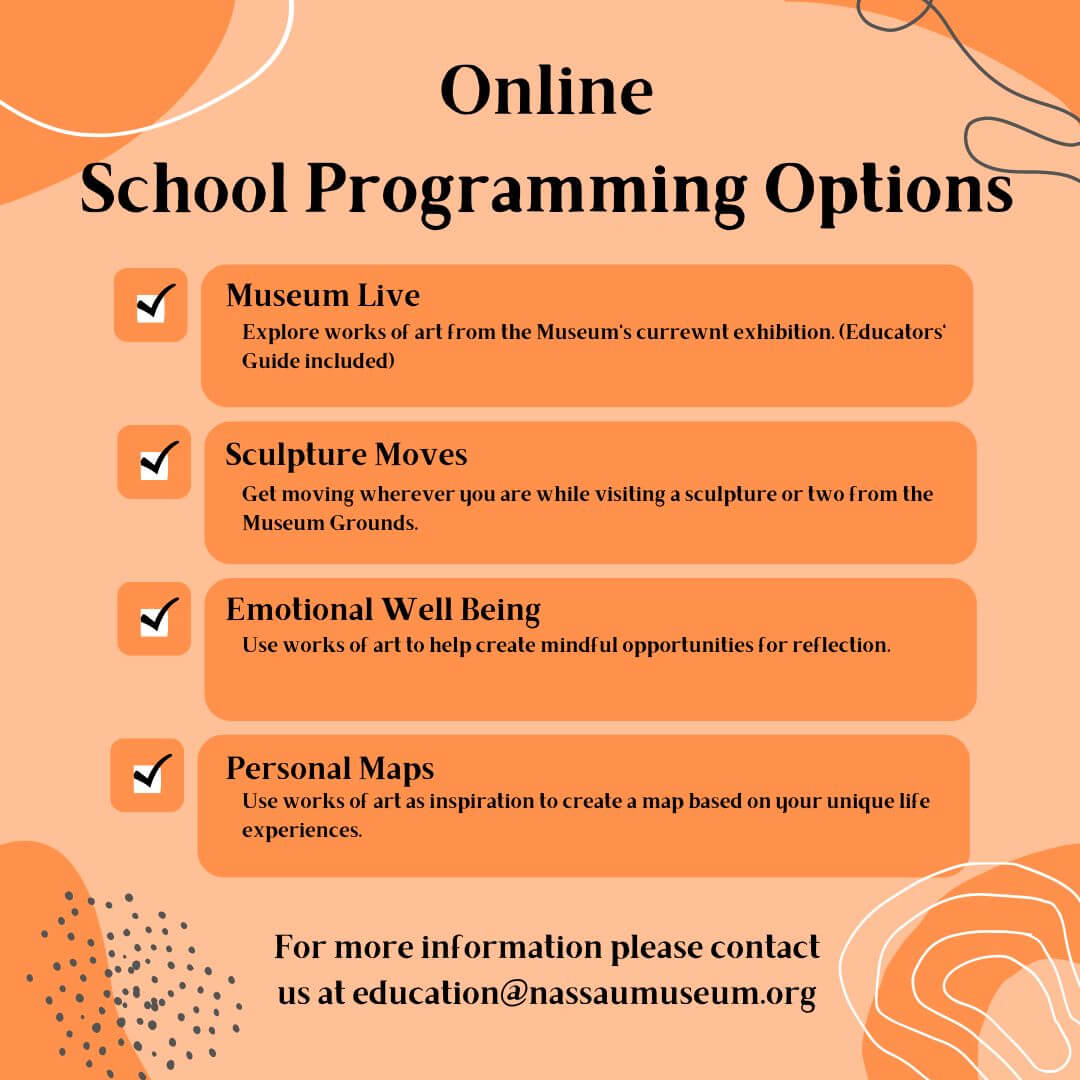 CONTACT US
Please schedule your program 4-6 weeks in advance.  For more information please email Catherine Clark, Manager of School programs at education@nassaumuseum.org or send us a message through the form below.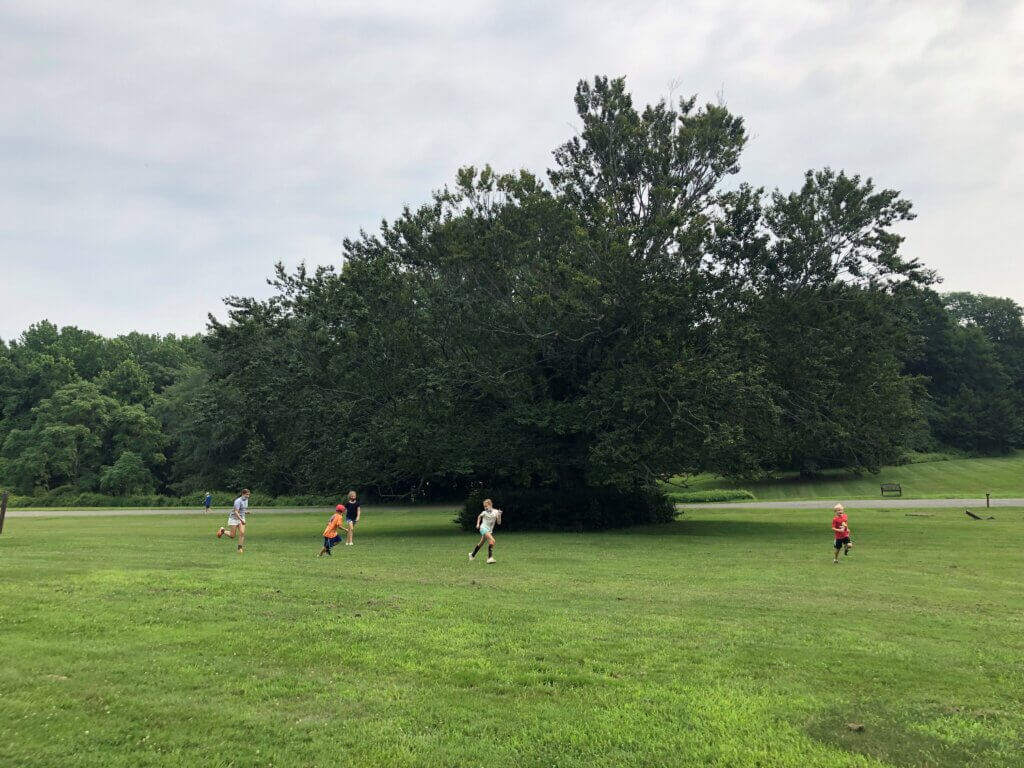 Before You Visit
Let us know of any classroom connections you'd like for us to integrate into your visit. Our team of museum educators want your visit to connect with what you are doing in your classroom! You can also let us know if there is anything in particular we need to know about your students.
Remember to check the weather as the day of your trip gets closer. Have students dress appropriately, since there is a chance you will visit our outdoor sculptures or explore our grounds after your visit.
We have no lunchroom facilities available at the museum, and as a nature preserve we ask that any snacks consumed outside be cleaned up.
It helps if students, particularly in younger grades, wear nametags! This helps the museum educator during gallery conversations.
When You Arrive
The Museum's Saltzman building is a large brick building a short walk from our parking lot. You have 2 options to discuss with your bus driver. You can either have the bus pull up to the front of the Museum for students to arrive directly at the front door, or your bus can park in the parking lot and you can walk up the brick pathway to the front door.
With either choice, the Museum road becomes one way as you pull up to the Museum's Saltzman building's doors – buses can continue around the ring road to end up back at the parking lot.
Jackets, backpacks and water bottles will all be left in class bins when you enter or you may choose to leave them on your bus.
Be Careful
Admiring is encouraged, touching is not. Artworks, including outdoor sculpture, may not be handled or climbed for any reason!
No running, jumping or gum-chewing in the building
All backpacks, packages, water bottles, coats and umbrellas must be left in the coat room upon entering
Please remember that this is a nature preserve; do not engage in any behavior that may harm or damage the wildlife or vegetation that resides here. Please remove any litter you or your group may create
Keep in Mind
An art museum is a place for reflection; please engage in quiet discussion as other groups and individuals concentrate on the exhibitions
We want your visit to be enjoyable and rewarding. With your cooperation we can continue the tradition of welcoming all visitors who love the museum as much as we do!  
Visit us online or on-site
Professional Development K-16
The museum offers both live, online professional development workshops as well as on-site professional development workshops. Workshops are designed to engage teachers and administrators in participatory and meaningful experiences. NCMA's education staff tailors workshops to meet individual classroom needs.  All programs serve to introduce the museum as a resource for teaching, classroom learning and self care.
Teachers receive CTLE credit and a certificate of participation for all Professional Development Workshops.
Please contact Catherine Clark, Manager of School Programs, to inquire –  cclark@nassaumuseum.org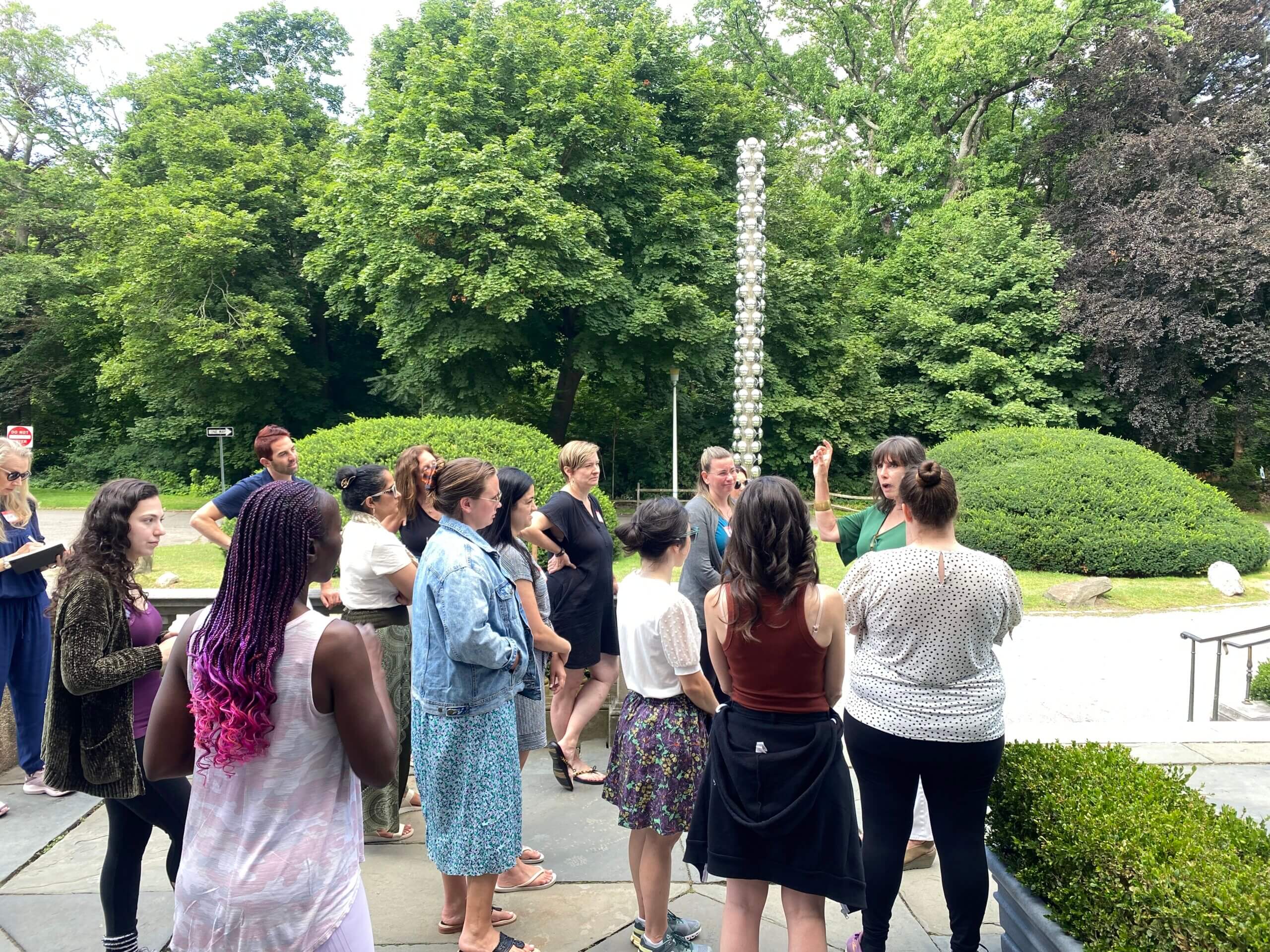 On-site
Professional Development 
Museum Galleries and Sculpture Garden 
Professional Development workshops are tailored to the needs of educators and administrators, K-16, in all disciplines. NCMA's Professional Development workshops focus on how to use works of art as a resource for teaching. The workshops are object/art centered; inquiry based and are designed to engage viewers in a participatory and meaningful experience. Discussions in the galleries are facilitated by education staff and methodologies used are open-ended and multi-disciplinary. Educators will discuss the connections between what they learn during the workshop and their discipline.
Includes the following:
Teachers will leave with sample activities that can be used in the classroom.

Teachers will receive an Educator's Resource Packet with images and a study guide.
Half Day – Half day: $900.00 for up to 30 teachers; Hands-on workshop for additional $100.00.
Full Day – $1,800 for up to 30 teachers and administrators; Hands-on workshop for additional $200.00.
Please contact Catherine Clark –  cclark@nassaumuseum.org to inquire.
Online Professional Development 
Includes the following:
A live, online workshop from the Museum with NCMA Education Staff

K-16 educators and administrators explore how the Museum and works of art can serve as a resource for teaching

Workshops are object/art centered; inquiry based, and are designed to engage viewers in participatory experiences and to address NYS Learning and Common Core Standards

60 minute event

25 participants maximum
Fee: $500
SELECT 1 OF THE FOLLOWING LIVE STREAMED OPTIONS WHEN BOOKING AND LET US KNOW YOUR PREFERRED PLATFORM:
MUSEUM LIVE! Explore works of art from the Museum's current exhibition inside the gallery (Educator's Guide included)
SCULPTURE STROLL Visit a sculpture or two from the Museum Grounds.
SOCIAL PRACTICE Use works of art on a virtual platform to explore current social issues.
EMOTIONAL WELL BEING Use works of art to help create mindful opportunities for reflection.
Please contact Catherine Clark –  cclark@nassaumuseum.org to inquire.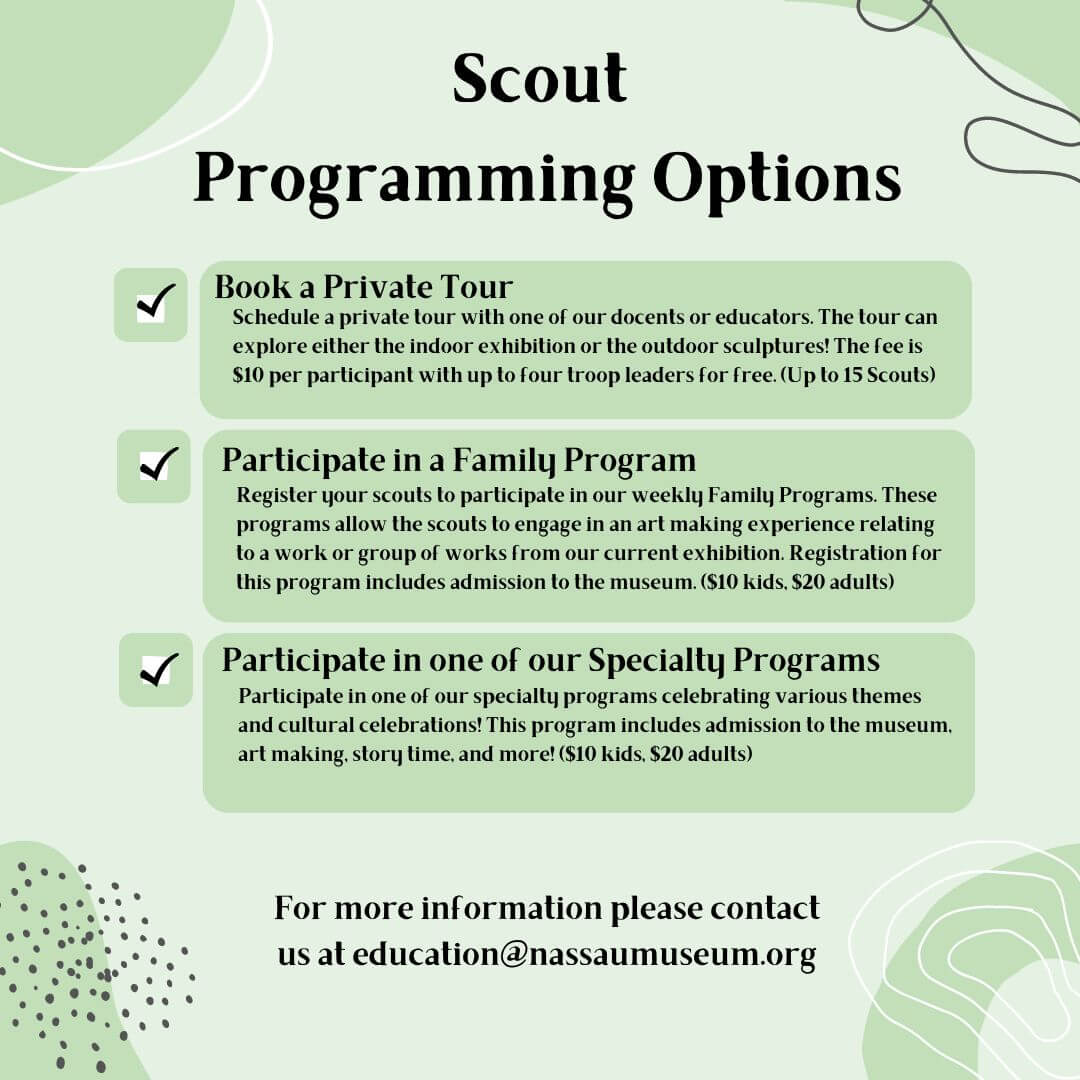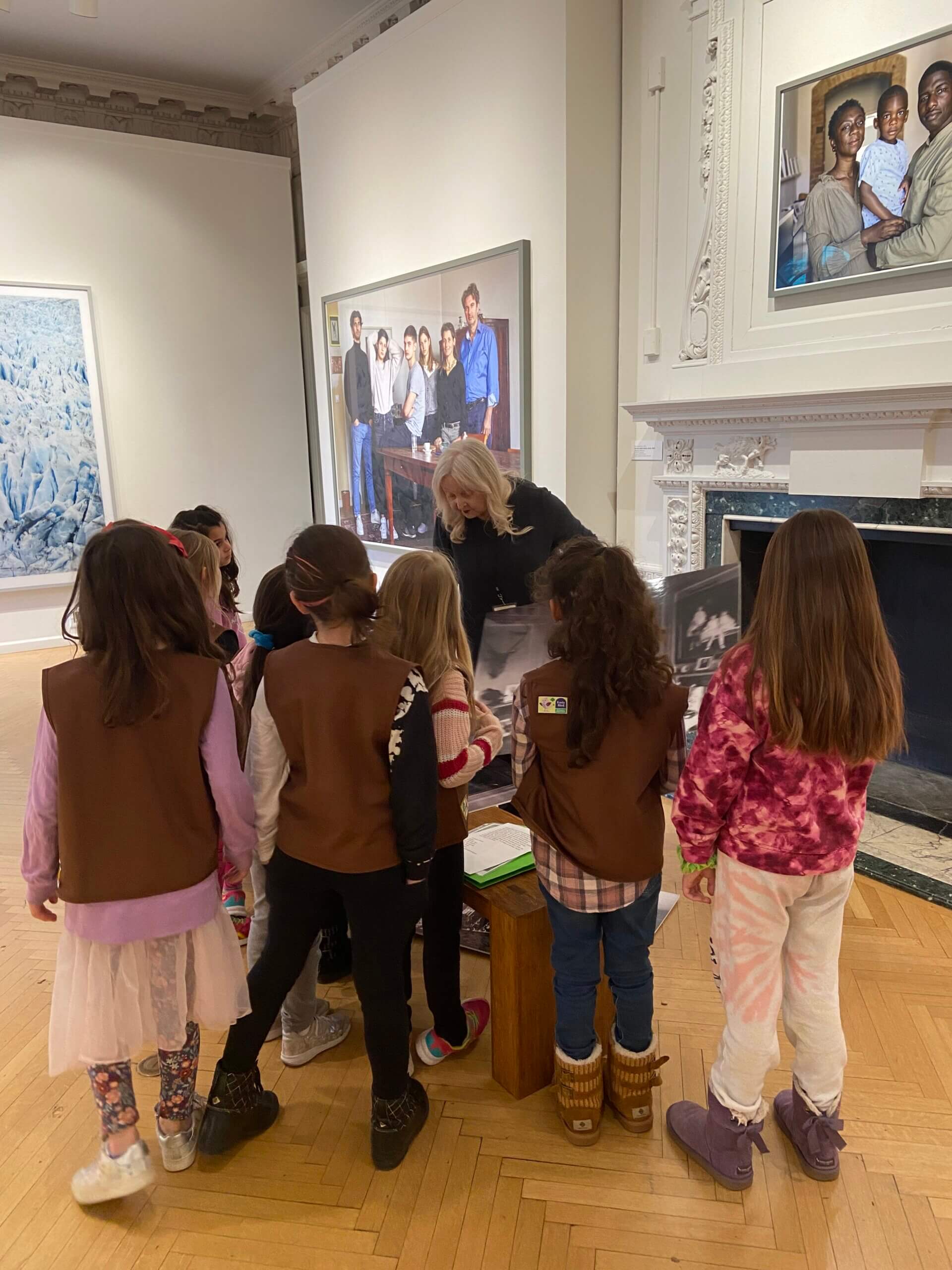 Join us for a memorable summer experience at the Museum. Registration for Summer 2024 opens in February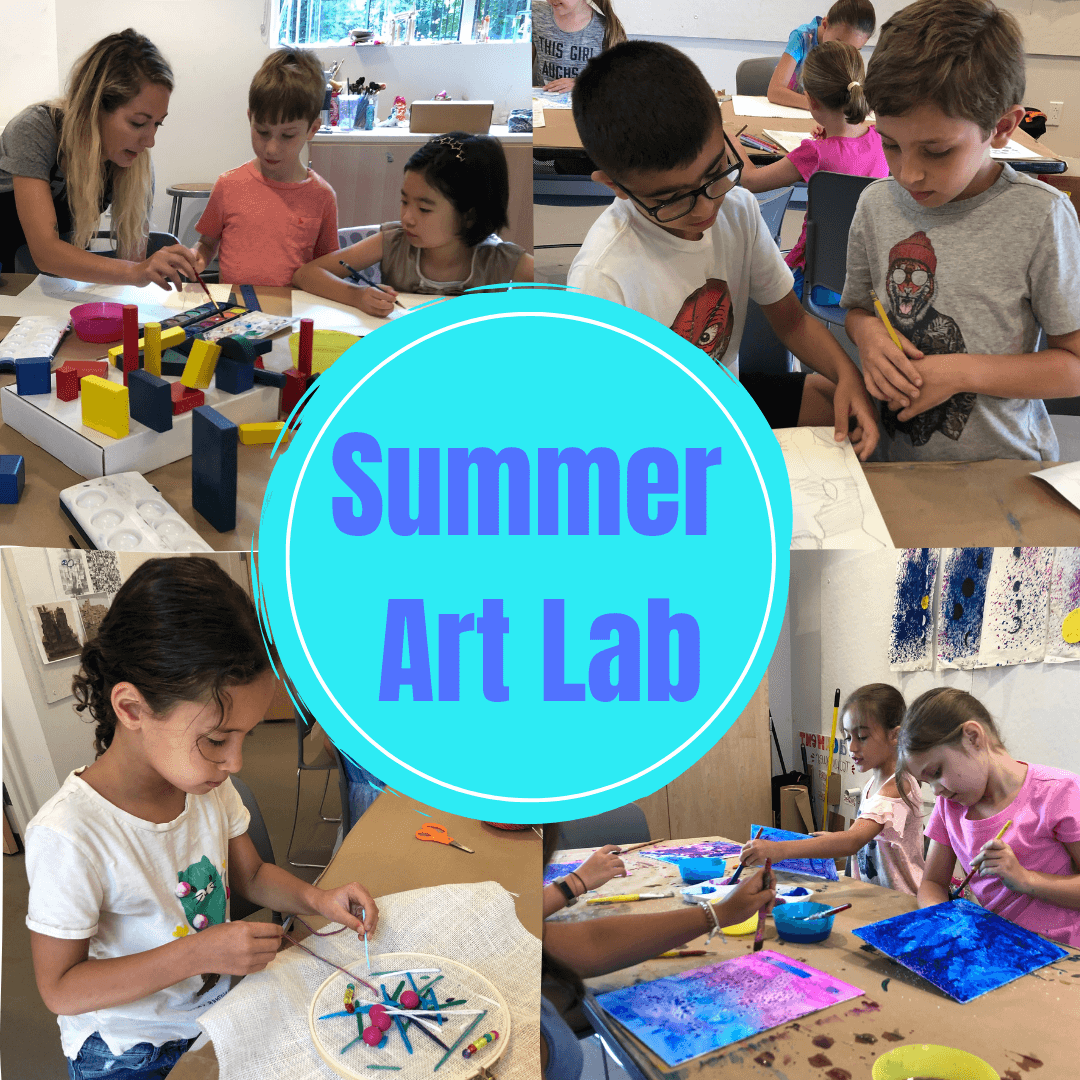 Summer Art Lab 2024
Ages: children entering kindergarten Fall 2023 through age 10
DATES TBD | four weekly Sessions
Monday-Friday | 9 am-12 pm
Location: The Manes Art and Education Center
$375 per week |  members
$450 per week | non-members
*Includes all artmaking materials
Member pricing applies to Dual / Family, Senior Couple Memberships and above.  Click here to become a member.
Join us this summer for a unique blend of indoor and outdoor creative adventures! Our popular Summer Art Lab program has been designed with 4 newly-themed week-long sessions. Using current exhibitions at the Nassau Museum, outdoor sculptures located on our 145-acre nature preserve, and contemporary artists as inspiration, Art Lab's young artists immerse themselves in the creative process. With the chance for exploring the fresh air of our forests and trails paired with devoted studio time in our Manes Art and Education Center, Art Lab artists will create unique works of art in a memorable summer experience.
Our educator Einav makes sure to adapt experiences based on age and encourages students to explore a variety of new materials, techniques and processes to challenge and engage. Students and families can choose how many weeks they wish to sign up for. All artmaking materials are included.
Support Our Education Programs
Please consider a donation today for the Museum's Public and Educational Programming