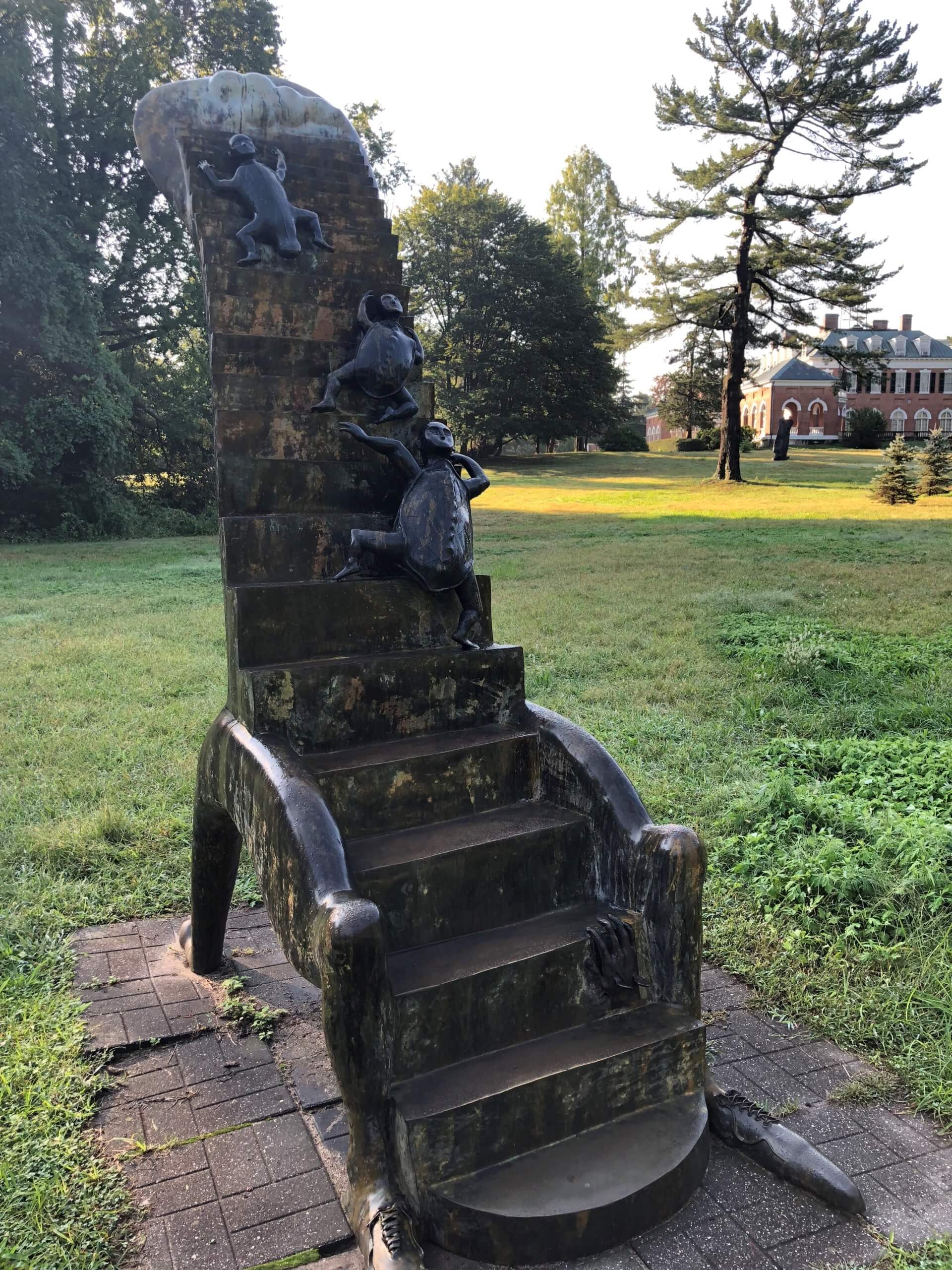 Sculpture Map #29 – Woodland Area + Trails
Alejandro Colunga
Stairway to Heaven, 2006
Unique bronze
3' x 7' x 9.3'
Extended Loan, Private Collection
Stairway to Heaven, a chair/stairway transforming into something almost human (or is it the other way around?), shod in long, narrow, carefully laced shoes. Its spinal column and buttocks connect it as another person-object to the Chair. A hand with ears begins the climb up the stairs, three turtles morphing into humans, or vice-versa, continue the climb, to be greeted by a tiny mouse-like creature, its hands clasped.
Alejandro Colunga's work is characterized by an attraction to the unexplainable, to unusual situations, to fantasy, and to transformation, especially of animate to inanimate forms as seen in this unique installation. Next to Stairway to Heaven, Silla, Casa para Palomas (Chair, House for Doves) featureing a tiny table with human legs and feet is dominated by an enormous "chair/person" with snake-like legs, a curving spine leading to very human buttocks, and a small mask-like head. Small openings at the bottom of the chair permit natural wildlife or perhaps the whimsical creature with a matching tail and snout to wander in and out. Openings at the top of the chair allow the wind to whistle through, or to create a home for doves, as indicated by the title. Six forms with sarcophagus-like bodies and fantastic heads, sprung from the artist's imagination, surround the table and chair. Are they there for protection? For conversation? To pay homage?
For Colunga, these surrealistic anthropomorphic statures with human legs and feet, or "people-objects" represent a magician (Mago) transforming himself into a chair, and are intended to be enjoyed and interacted with. Very  unusually, Colunga likes his art to be sat on and  touched, stating " I love it when people are drawn to one of my works and want to touch it or sit on it, since touch is the most intimate and universal sense we have." Get close to these sculptures, marvel at the extraordinary variety of shapes textures and colors in the bronze patina, and enjoy the multiplicity of personages and details that increase not only questions but also wonder and magic about these visitors from Colunga's imagination.
Alejandro Colunga, b. 1948 – Born in Guadalajara, Mexico and trained as an architect, but became a self-taught artist – a painter and sculptor. He works in the Latin American tradition of surrealism and fantasy, and is considered part of the movement known as Nueva Mexicanidad.  His work has been shown in a number of exhibitions in the United States, Mexico, Europe, and South America. The imagery in much of his work is drawn from popular art traditions in Mexico – folk art, folk stories he heard as a child, his experience working in a circus, his Catholic upbringing. He has studied in the workshops of master artisans in Mexico and often uses traditional techniques in his ceramics and wood sculptures.