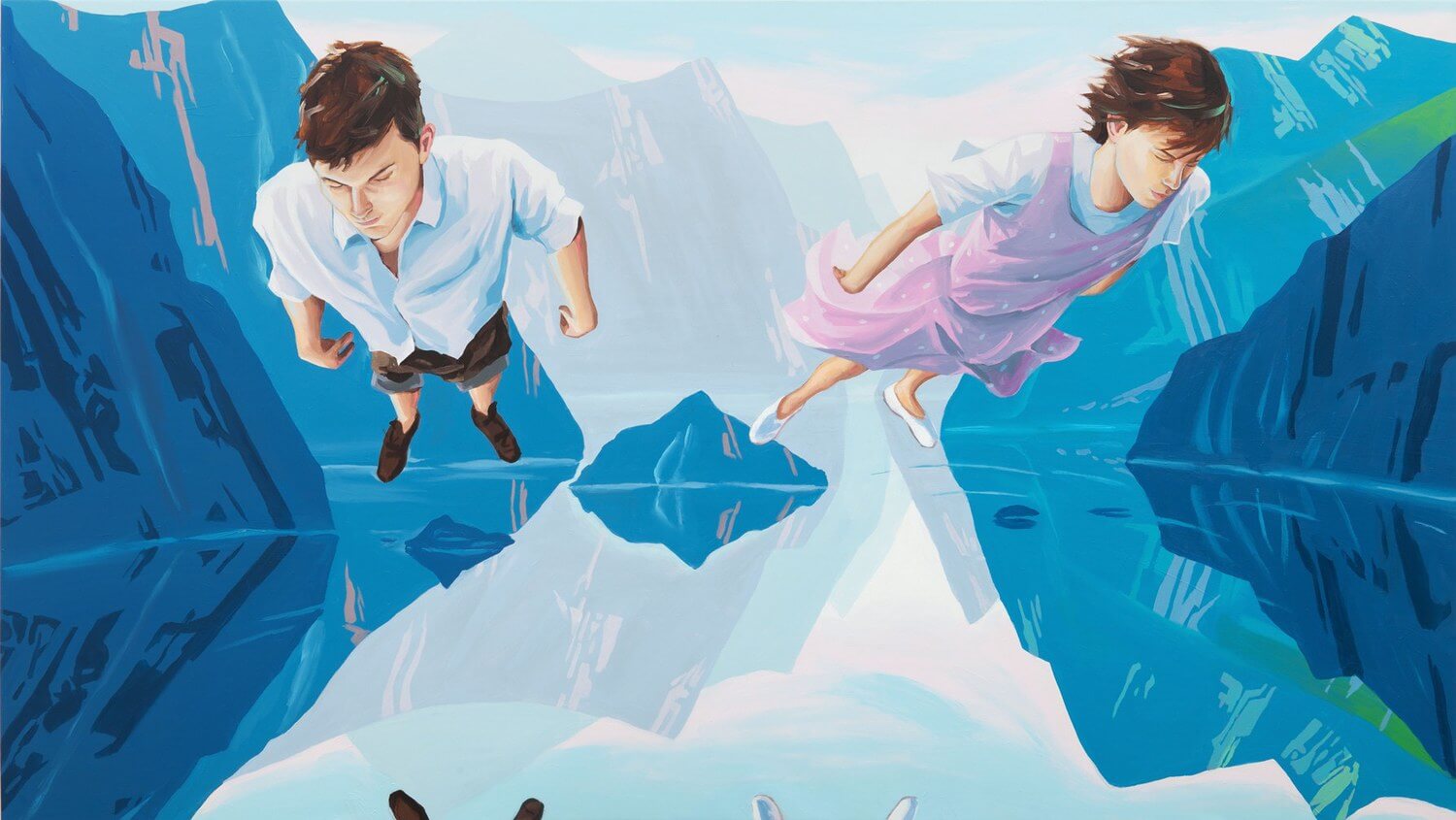 Christopher Winter
Huxley's Guide to Switzerland, 2011
acrylic on canvas
35.5 x 27.5 inches
Courtesy of Edelman Arts
An enormously talented storyteller, the Berlin-based English artist Christopher Winter taps the great figural tradition that gave Surrealism its wings in his Alpine fantasy. He also draws upon the experiments in consciousness that Aldous Huxley recorded in his book, The Doors of Perception (1954). Winter's panorama shares qualities with the intimate prints of Japan. Like the supernatural powers of Kuniyoshi's Kabuki characters or poor, sodden Hatsuhana, the adolescent figures soar over the lake, while the mountains behind have the peaceable harmony on the tonic blue of Hiroshige's landscape, Shichirigahama in Sagami Province. Winter's studio teems with separate pots of several acrylic blues, the core of his palette, the tones on his modal scale:
Blue has something transcendental and soothing and occupies a huge part of my painting palette. I start with Ultramarine or Cerulean (these two blues cannot be mixed from anything else but are like fathers to whole families of blues). Each parent blue can then be guided to new depths depending on whether you add them together or mix small amounts of green, black, white or purple to them. The nuances are infinite.  All my work is an exploration of our known reality. In my painting the central characters are floating in space above a lake in Switzerland. Whether it is our perception or their perception that has been altered it is not clear. The force of gravity has been lost and they float through a blue sublime landscape. The laws that normally govern us and bind us to the earth are relaxed and replaced by a feeling of liberation.
#NCMAblueperiod