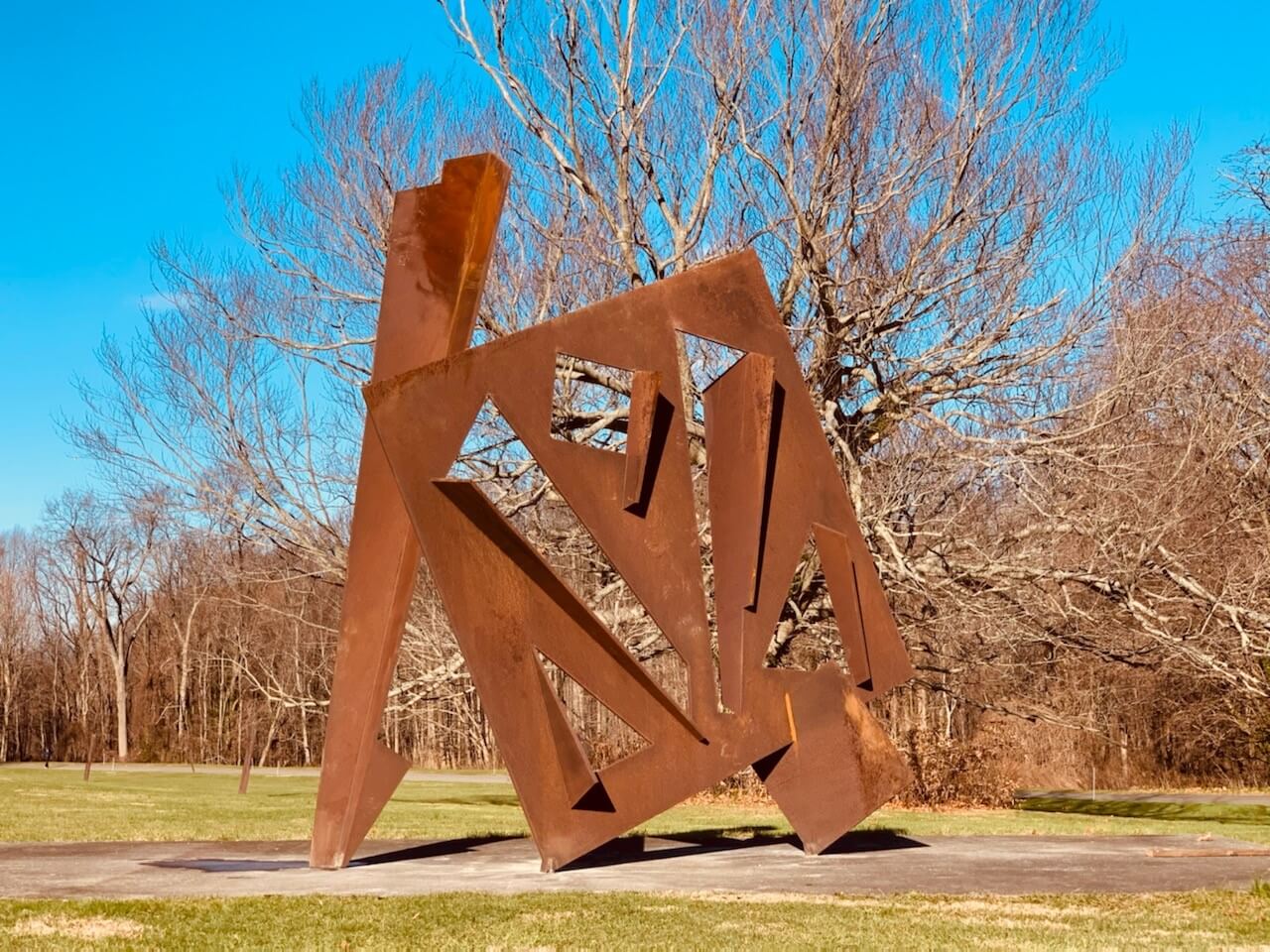 Joel Perlman
DREADNOUGHT, 1989
Steel
16 x 12 x 7 feet
Courtesy of the Artist
Renowned for his large-scale juxtaposing density and scale against airy lines, Joel Perlman's Dreadnought parses this tension in the seemingly improbable nature of a dreadnought, or battleship. The sheer magnitude of density is lifted is counterweighted by the sculpture's linear qualities, which lend a balletic sense of floating. Cut-outs in the Corten steel offer peeks of the landscape behind the sculpture, offering fleeting glimpses like reflections on the water's surface.  Nassau County Museum of Art is thrilled to unveil Dreadnought, the most important new work to be added to any museum collection on Long Island and the first significant addition to the Nassau Museum's outdoor collection in more than a decade.
Dreadnought, a stunning example of Modernist sculpture by Joel Perlman, whose achievements include similar scale works in Chicago, New York, London and in the Hamptons (the Parrish Museum recently acquired one of his outdoor works). Well known in the art world as one of the young artists of the Andre Emmerich Gallery during the 1970s, Perlman has taught at the School of Visual Arts since 1973 and is a significant figure in the contemporary art world. He has received both a National Endowment for the Arts grant and a John Simon Guggenheim Foundation Fellowship. 
Dreadnought, which measures 16 feet high and weighs 7,000 pounds, was originally fabricated in 1990 under the direction of John Degen at Liberty Ironworks. The monolithic sculpture was transported on a low-boy tractor trailer by Corrigan and Sons, Inc., placed on the site by Phil Boilier Crane Service (with a 100-foot crane), and installed by Liberty Ironworks. Today, the sculpture is a permanent addition to Nassau County Museum of Art. The site was chosen by Joel Perlman, in consultation with Museum Director, Charles A. Riley, II, PhD.  
Joel Perlman lives and works in both Tribeca and Water Mill, New York. He is represented by the Loretta Howard Gallery, New York.