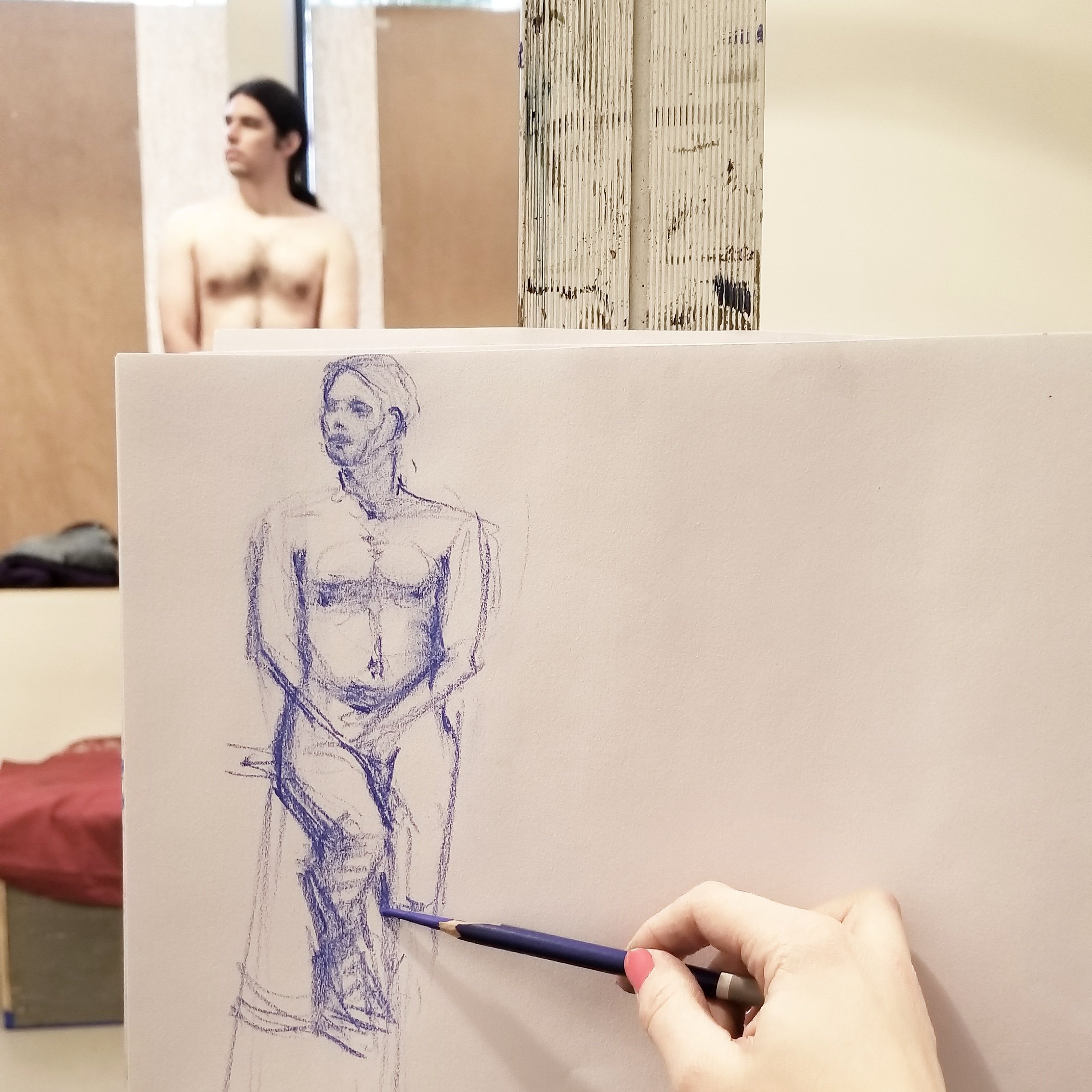 Figure Drawing with a Live Model
Independent studies – non-instructional
Location: The Manes Art & Education Center
All levels
Adults and Teens 16+
Wednesdays, 10 am-1 pm
Spring Session 1- (5 weeks) May 3, 10, 17, 24, 31
$112.50 members (22.50/ day) I $125 non-members ($25/ day)

Spring Session 2- (4 weeks) June 7, 14, 21, 28
$90 members (22.50/ day) I $100 non-members ($25/ day)
Summer Session-(6 weeks) July 12, 19, 26, August 2, 9, 16
$135 members (22.50/ day) I $150 non-members ($25/ day)
Attend one day:  $27 members | $30 non-members
Practice drawing and painting human anatomy and proportion while observing a live model. Begin with a series of brief timed poses before continuing to a long-pose each week. There is no instructor and participants are encouraged to work independently. Participants must bring their own art supplies. Model fee included.
Pre-registration is required for this class. Member discount applied at checkout
Bring your art materials of choice to each class. Any drawing and painting materials are welcome and encouraged. Easels and seating supplied for in-studio use.
For questions regarding this class or registration, please email artclasses@nassaumuseum.org
COVID 19 Safety – Covid-19 vaccines are required by all persons enrolled for in-person adult art classes at The Manes Center with proof of at least 2 vaccinations presented on the first day of class. Limited to 6 students per class. Face masks recommended, but not required. Exit doors will be open in the studios for ventilation when weather permits.