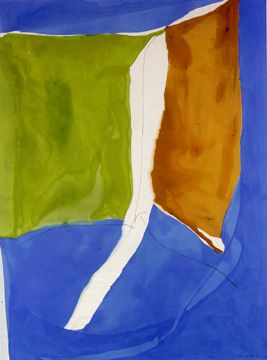 Helen Frankenthaler (1928-2011)
Herald, 1970
oil on canvas
108 x 81 inches
Courtesy of Dr. Todd Cohen
The vast expanse of ultramarine (acrylic, for its bounce) advances to conquer the space of the picture plane. Like Miro, Matisse and Picasso, blue was a touchstone throughout Frankenthaler's career. Her studios and plein air excursions led her over and over again to sunlit salt water: Peconic Bay and the ocean by Springs in 1951, Cape Breton in 1952, shipboard on her honeymoon to Spain and the Cote d'Azur with Motherwell in 1958, Morocco in 1960, the glorious studio overlooking Provincetown Bay in 1964 and after, the long-term studio she maintained starting in 1974 at Shippan Point overlooking Long Island Sound from the Connecticut shore having known the Sound from our side when she taught in Great Neck in 1959). The milestones of her long career all took blue as their tonic key, from Mountains and Sea (1953) to The Bay (1963), Ocean Drive West #1 (1974), Interior Landscape (1964), Blue Reach (1978), to choose a handful of titles that testify to her special affinity for the color.
#NCMAblueperiod