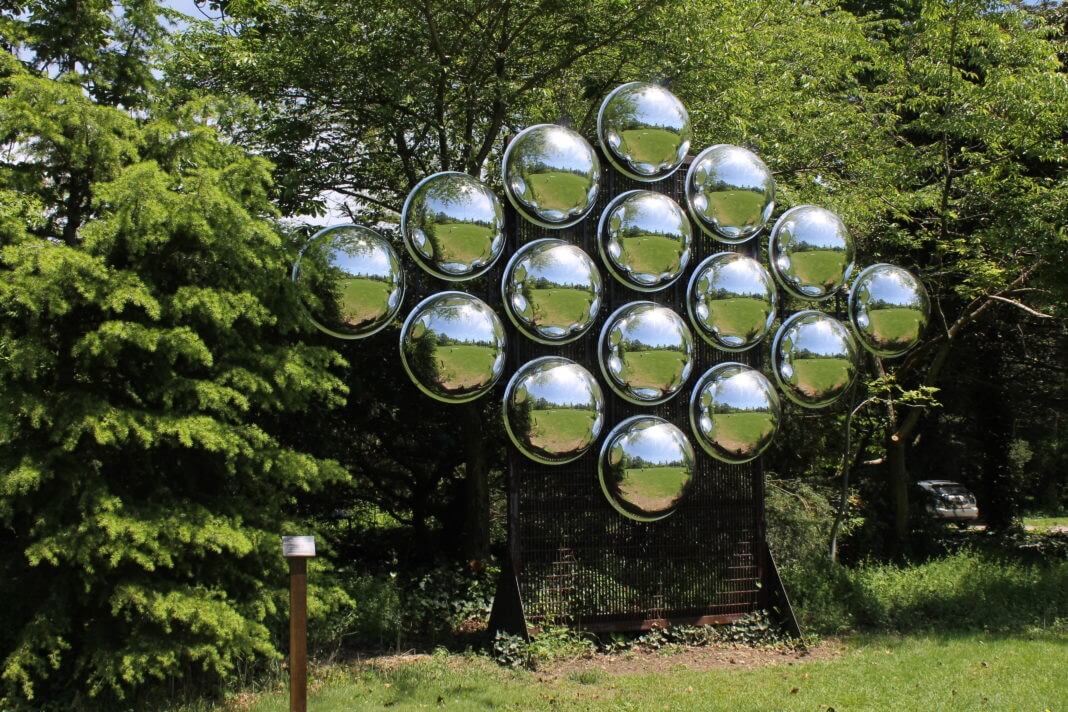 How might the changing weather and seasons, and their reflection in these mirrored domes, impact the interpretation of this sculpture?
Marko Remec
Nyet (Wall Totem), Reinstalled 2018
16 32" acrylic convex dome safety mirrors, aluminum square tubing, steel channel and assorted metal hardware
12' x 19' x 16.5'
Courtesy of the artist
Marko Remec's site specific works at the Museum are constructed with acrylic and chrome safety mirrors used for security on buildings and on buses and trucks. Wall Totem places 16 huge mirrors in a diamond or stylized eye pattern observing and reflecting the great lawn, its sculpture, and the passing viewer, as well as the changing light and color that surrounds it.
Marko Remec, b. 1958 – Marko Remec, a conceptual sculptor, graduated from Williams College and Stanford with degrees in art, science, and business. He took his first studio art class as a college freshman, got "hooked" by the intensity of visiting artist Jim Dine, and studio art soon became a major. Practicality, however, led to business school and a 25 year career as a banker. Remec says he now keeps longer hours in his studio than he did as a banker.
My job as a banker was to connect with people and convince them why agreeing with my point of view was in their interest. Art is actually not all that different. I want to connect with as many people as possible, which is what drew me to public art. When I see an empty space, I can't help but immediately start to think about what could go there. – Marko Remec