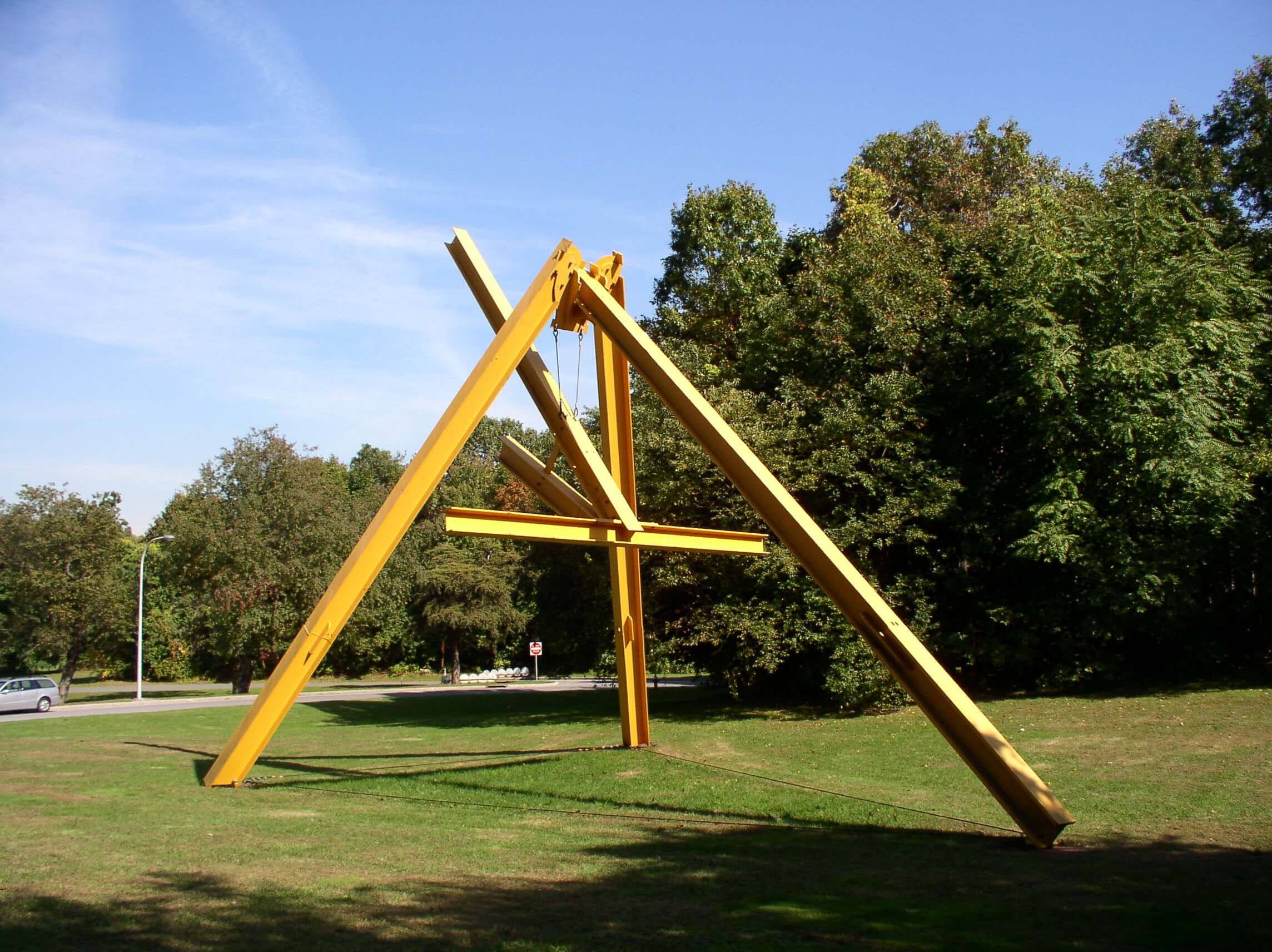 Sculpture Map #21 – Manes Education Center
Mark di Suvero
One OKlock, 1968-69
Painted steel
28′ x 39' x 46′ 5''
Extended Loan, Courtesy of the Artist
One Oklock, an open tripod of approximately 40 foot steel beams, has a lively, striding look despite its huge scale. More triangular elements hang by steel cables from the top of the sculpture and, from a certain angle, are placed like the hands of a clock at one o'clock. Despite the weight of the steel beams, this element moves in the wind, characteristic of di Suvero's work. Open and linear, it is constructivist in style, it's elements cut and assembled the way something in a factory might be created; in complete contrast to the carving and modeling methods of traditional sculpture. The industrial technology and urban life style evoked by the use of steel beams bolted together is contradicted by the playful, brilliant yellow covering it, and creates a wonderful contrast to bright blue sky, green leaves, brilliant fall foliage, or a layer of white snow.
Does the scale of this sculpture add or detract to your interaction with it? How would it feel to experience this sculpture in a much smaller form?
Mark di Suvero, b. 1933 – An American sculptor born in Shanghai, Mark di Suvero majored in philosophy at Berkeley and moved to New York. During the 1960s where he became involved in "Junk Art," making monumental assemblages of beams, tires, chairs, chains, and other scrap from demolished buildings and junkyards. In spite of their intimidating scale and use of materials like I-beams and tank parts, di Suvero's sculptures are inviting, participatory, and often whimsical. The viewer must walk around, under, and through them in order to fully appreciate them – di Suvero demands viewer participation. A lover of poetry and a practitioner of yoga, di Suvero's seemingly effortless and casual works are the result of enormous concentration and discipline. Unlike most other sculptors of large-scale pieces, he is, himself, a master welder, forklift operator, and virtuoso at the controls of a crane. "When you pick up a large weight with a crane, you need a sense of the center of gravity," he says, "This is something dancers understand, the way you can control a weight by shifting its center… the process is delicate – like playing a violin. I try to get some of that sense of balance into my work. Just because a sculpture is big, it doesn't have to be rigid." Movement – interaction with the wind or with the viewer – adds further to the whimsical and paradoxical quality of his work, the sense of uncertainty and precariousness produced by one's expectation of what steel should or should not do.