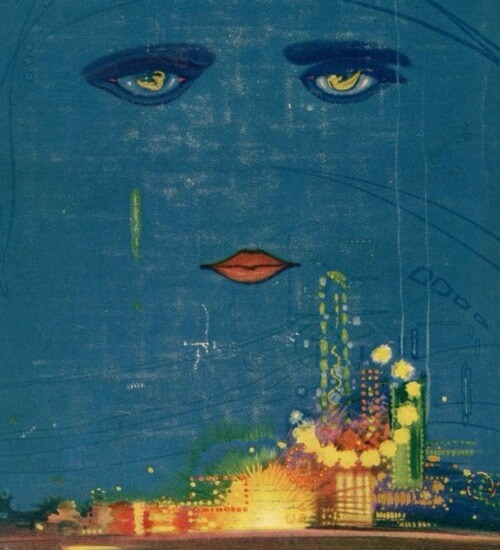 Francis Cugat, Celestial Eyes – a painting for the cover of F. Scott Fitzgerald's novel, The Great Gatsby (1925), Courtesy of Princeton University Library, Rare Books and Special Collections, 2006.02659.
The Jazz Age
March 24 – July 8, 2018
Wild, hot, roaring, and free, the Jazz Age is celebrated as the decadent heyday of such stars as Zelda and Scott Fitzgerald, Ernest Hemingway, Gerald and Sara Murphy. George Gershwin, Cole Porter, Josephine Baker, Coco Chanel, Langston Hughes and other rebels who would "live it up to write it down" in New York, Paris and the Riviera. It was also an age of artistic masterpieces made by Pablo Picasso, Fernand Léger, Piet Mondrian, Amadeo Modigliani, Gaston Lachaise, Aristide Maillol, Stuart Davis, Florine Stettheimer, Tamara de Lempicka and other celebrated artists. In one major multimedia exhibition that combines art, literature and music, the Nassau County Museum of Art presents the masterworks and bold experiments of a generation of artists, writers, composers and designers who changed the history of Modernism. The giants among the painters were Picasso and Leger, while American composers such as Gershwin and Porter were taking syncopation and the blues to new heights, and the legendary Ballets Russes (the company that inspired the hit movie The Red Shoes) broke all dance conventions. Chanel and Le Corbusier redefined design with their radical simplicity, and architecture gained a new, sleek elegance with Art Deco. This epoch of unparalleled cultural thrills began when World War I ended on November 11, 1918 ("at the eleventh hour of the eleventh day of the eleventh month"), just over a year after the October Revolution in Russia, and ended on October 24, 1929, when Wall Street crashed after its historic nine-year bull run. One show assembles the art and artifacts of the greatest decade in the history of Modern culture.
With paintings, drawings, sculpture, fashion, monumental publications and musical instruments (as well as the original Victrola turntables and radios that made Tin Pan Alley an international media phenomenon), the exhibition brings the Jazz Age vividly to life. The Long Island connections are a highlight. On April 10, 1925, F. Scott Fitzgerald's The Great Gatsby was published, having begun as a manuscript written in a room over the garage of a rented house in Great Neck. Cole Porter, Charles Lindbergh, Archibald MacLeish and the golden couple, Gerald and Sara Murphy, all had deep local roots. No exhibition of this magnitude should be without major discoveries. Three of the important but unheralded figures unveiled in the exhibition were "women warriors" of the cultural scene who ventured, solo, to live in Paris during the Twenties: Nancy Cunard, Anna Walinska and Pan Yuliang. The shipping heiress Cunard may be best known as an advocate of African-American culture and the muse of Brancusi and four Nobel laureates (including Samuel Beckett, whose first publication she sponsored), but a selection of her first editions and manuscripts reveals her extraordinary gifts as a poet and editor. Walinska was a teenager from Brooklyn who captured café life in never-before-seen paintings that bear the influences of her friends Picasso and Matisse, while Pan became the first Chinese woman to make her name abroad as a painter. "Living well is the best revenge" was the motto of an extraordinarily fortunate generation, anything but "lost," that remains today the epitome of sheer creative freedom.