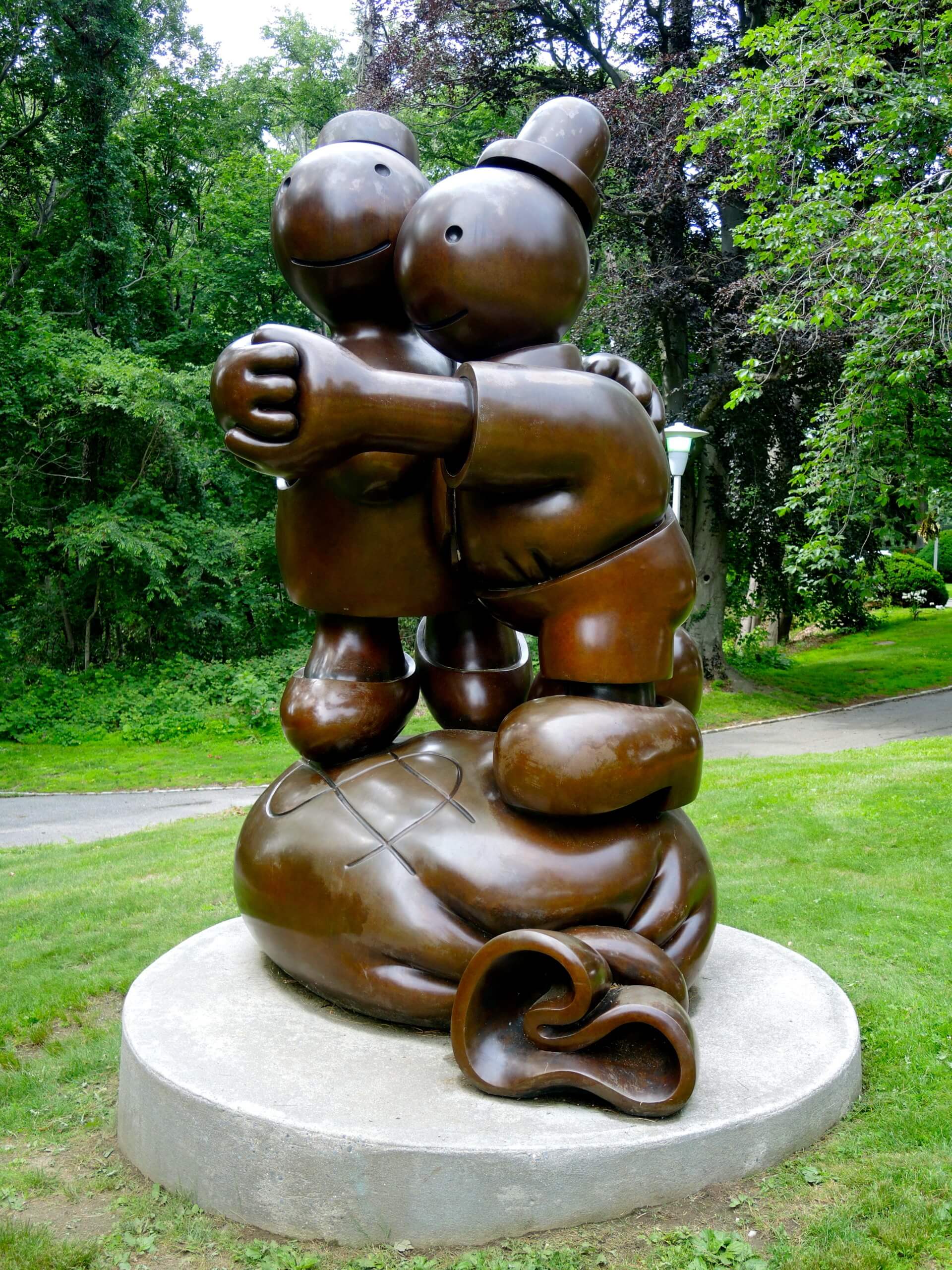 Sculpture Map #13 – Woodland Area + Trails
Tom Otterness
Free Money, 2001
Bronze, edition 1/3
6.25' x 5.5' x 9.5'
Free Money, with its happy couple dancing on top of an enormous sack of money, is part of a series entitled Free Money and Other Fairy Tales. The series is a sculptural story of man's relationship to money, ranging from this carefree couple to the last work in the series, Last Penny, with the same couple sadly shaking the last coin out of their now empty sack. These works are typical of Otterness in their cartoonish humor and the undercurrent of satire both aimed at and collected by the rich.
Many of Otterness' sculptures are meant to be easily accessible to the general public, whether in a garden, playground or subway station. Why do you think an artist would prefer to make public art outdoors rather than art displayed in a museum's galleries?
Tom Otterness, b. 1952 – Born in Kansas where as a child he sculpted little figures in clay along the side of the river near his home, Tom Otterness moved to New York in the 1970s and began to sell his small plaster figures for a few dollars in Times Square. Since then he has been interested in public sculpture and in making his art available to as many people as possible, not only to those who visit art museums and galleries. For this reason, his work can be found in many outdoor locations and even subway platforms in New York City as well as other public places in this country and around the world. Otterness is best known for his figurative sculptures of plump, asymmetrical figures made of cast plaster or metal. His simplified forms and sense of humor create a universal language, understandable to everyone. He says many of his characters were inspired by comics from the 1930s, fairy tales and old legends, as well as current events.