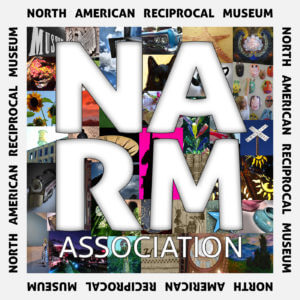 The North American Reciprocal Museum Association (NARM) is an extensive network of hundreds of cultural institutions across Bermuda, Canada,
El Salvador, Mexico and the United States connecting their memberships for unprecedented access to arts, science, history, botanical gardens and more.
FAQs
Which museums can I visit for free?
Search the member map to find participating NARM member institutions. You may also search by category of institution (art, science, history, botanical gardens and more). The map changes often, so check the NARM website periodically.
Want to upgrade to the Supporting level to begin using NARM privileges right away?
When you pay $150 here, your expiration date will be extended 12 months beyond your current expiration and you can use the Supporting benefits that entire time.
Upgrade to the Supporting level to Visit 1000 other Museums Free
Members in the Supporting level and up get free admission to 1000 other museums in the NARM (North American Reciprocal Museum) network. Those who upgrade mid-year will add twelve months to their current expiration date and begin to take advantage of the higher-level benefits immediately with their special gold-stickered membership card.
Renew as a Supporting Member to Receive this Benefit
Reciprocal Admission Benefits  
Supporting Members and above enjoy free admission to 1000 other museums that participate in the North American Reciprocal Museum (NARM) Association. When you present a current membership card with a gold NARM sticker or a digital card with the NARM logo you will receive:
Free member admission during regular museum hours to participating NARM institutions

Member discounts at museum shops

Some museums may also offer discounts on concert/lecture tickets
Please note the following guidelines:
Admission benefits are determined by each participating institution.

Some institutions restrict benefits. It's always a good idea to contact another institution to confirm benefits before visiting.
Need your gold sticker to visit other museums?
If you are already a Supporting level member or above and your membership card does not include the gold sticker needed to visit, please let us know by emailing membership@nassaumuseum.org