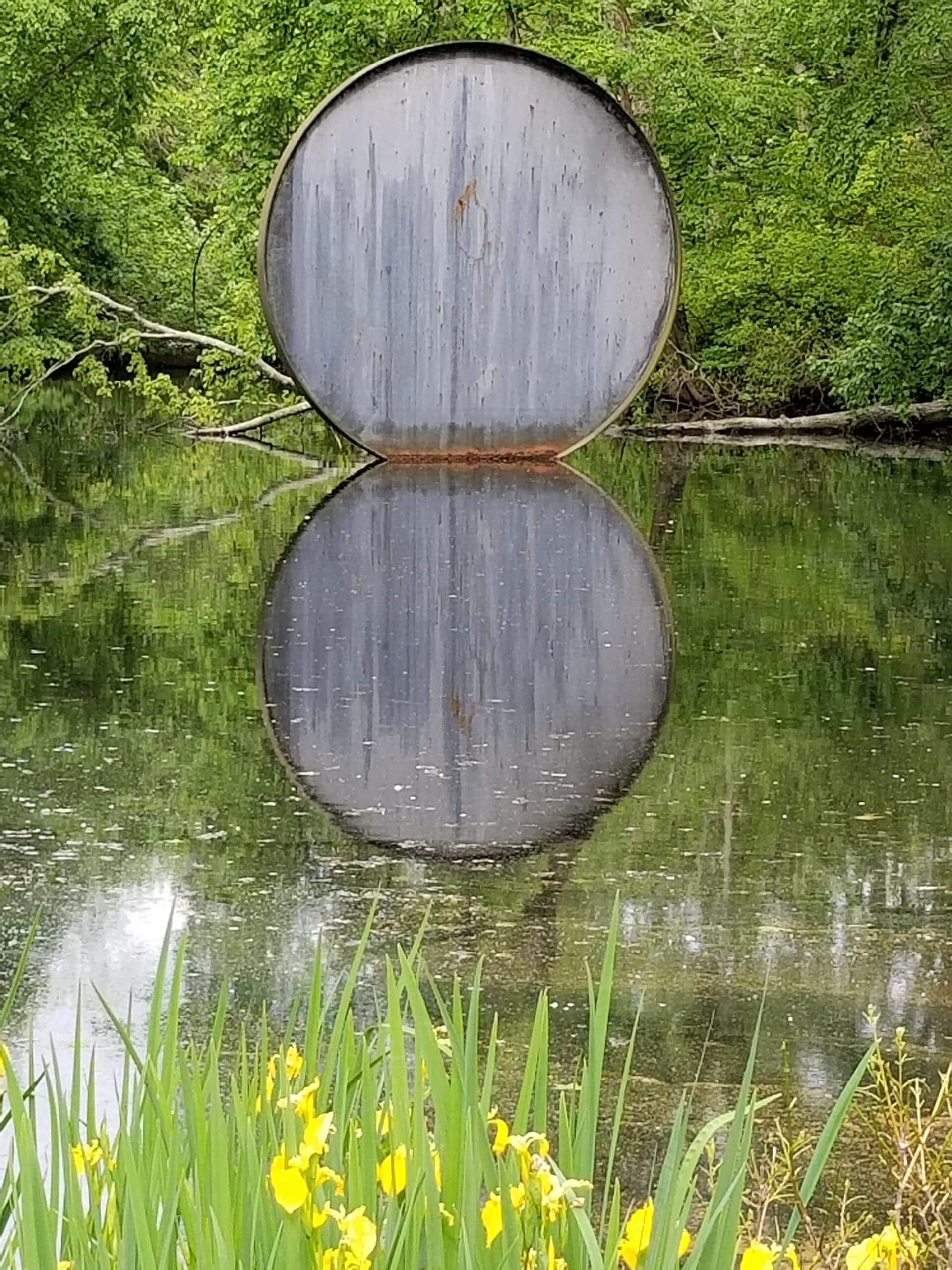 Sculpture Map #36 – Woodland Area + Trails
Allen Bertoldi
WOOD DUCK, 1979
Painted steel
15′ x 15′ x 1′
Gift of the Nassau County Museum Association
A mysterious black steel circle floating on the surface of a pond, this sculpture is another of the Museum's landmarks, its magic enhanced by the changing light and seasons reflected in the water. A slow, twisting, revolving feeling of movement animates the solid circle, the result of a changing thickness in the surrounding rim.
Instead of creating a realistic depiction of a duck as the title Wood Duck suggests, Bertoldi was inspired by the rounded heads of the Wood Duck's that swim in the Museum's pond in his circular *minimalist sculpture.
*Minimalism is a type of art that uses simple geometric shapes and forms.
Why do you think the artist installed his work in the Museum's pond? How does the sculpture change? How does it stay the same?
Allen Bertoldi, 1941 – 1981 – A California-born and trained sculptor, Bertoldi moved to New York with his family in 1976. He died in 1981 at age 40 after falling off a roof while renovating his recently purchased studio in Brooklyn.
Bertoldi's five works at the NCMA were part of a one-man exhibition on the grounds in 1979, the first major exhibition of the artist's work in New York.  His use of simple geometric forms (often repeated), industrially fabricated, with no evidence of the artist's "touch," are characteristic of the  Minimal Art of that period, but with an almost poetic sensitivity to the landscape. A special effort was made to integrate each sculpture with its site ("site-specific") so that both landscape and sculpture are transformed by their interaction with each other.  Strong and architectonic, painted an even matte black, yet also intimate and gentle, the works reflect the personality of their creator.
 #NCMAoutdoors